Self Financial has added rent, utility, and cell phone reporting to its platform. The big update aims to help U.S. consumers build credit. Along with other services Self Financial provides, it broadens the choices consumers have on their credit building journeys.
Self Financial Starts Rent and Utility Reporting
Self Financial is a fintech company offering a credit-building platform to U.S. consumers with low or no credit. And now they have included rent and utility reporting as part of their services, which also includes cell phone payments. The new additions will report to major credit bureaus which include Experian, Equifax, and TransUnion.
Self Financials' new service will report rent payments to all three major credit bureaus. The utility payments, including cell phone, electric, water, and gas, will get reported to TransUnion. Self has had these plans in the works since the beginning of the year. At the start of 2022 Self acquired a consumer data reporting company, LevelCredit. With the new acquisition, Self Financial began Beta testing exclusively to the company's one million+ customers.
The new rent and utility reporting service work as a monthly subscription. Consumers can choose to pay $6.95 a month to connect their bank accounts and select which eligible payment(s) to report. The subscription includes:
Instant alerts
Monthly credit & score summary
$1 million in identity theft insurance and restoration
In addition, monthly subscribers can choose to pay a one-time fee of $49.95 to retro up to two years of prior payment history reported on their credit report. According to the Consumer Financial Protection Bureau report, more than 100 million Americans have a low or no credit score. And payment history accounts for 35% of a consumer's credit score. Therefore the rent and utility reporting Self Financial provides has the potential to make an encouraging impact on consumers' financial well-being.
Part of what makes Self products convenient for credit building is that no hard credit check is required to get started. With the addition of rent and utility reporting, new and current Self customers can pick from various credit-building paths to fit their individual goals and budgets. Self Financial services include:
Building credit through savings with Self's flagship Credit Builder Account
Building credit with the Self Visa® credit card, which offers secured and partially secured credit to eligible customers
Building credit through Self's latest product, a subscription service that helps people report their rent and utility payments to the credit bureaus
"With inflation and so much economic uncertainty, consumers are under a great deal of financial pressure. Having access to credit is the key to financial freedom because credit gives people options, especially when the unexpected happens," said Monique White, Head of Community at Self. Press Release.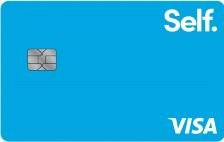 Get the Savings Plan That Helps Build Credit Today!
Monthly reporting to 3 major credit bureaus
Self Financial is a credit-building platform working to increase economic inclusion and financial resilience through products that make building credit accessible. With no hard credit check to get started, Self's signature Credit Builder Account and secured Self Visa® Credit Card issued by its partner banks are designed to enable people to build credit and savings simultaneously.
Related Article: 5 Reasons to Get the Self Visa Card
Featured image by numbeos/Getty Images Signature
Editorial Disclosure – The opinions expressed on BestCards.com's reviews, articles, and all other content on or relating to the website are solely those of the content's author(s). These opinions do not reflect those of any card issuer or financial institution, and editorial content on our site has not been reviewed or approved by these entities unless noted otherwise. Further, BestCards.com lists credit card offers that are frequently updated with information believed to be accurate to the best of our team's knowledge. However, please review the information provided directly by the credit card issuer or related financial institution for full details.