A new report is showing that Apple Pay is failing to gain a foothold in-store, despite having a significant advantage of other mobile wallets. PYMNTS data shows that despite the near-universal presence Apple has in many Americans' lives just 6% of consumers use Apple Pay to make purchases in-store.
Report: Apple Pay Use In-Store Lags Behind Online Purchase Usage 
Apple products are seemingly everywhere. The Apple iPhone is the go-to mobile phone for tens of millions of Americans, offering seamless integration with other Apple products, including iPads, Apple Watches, the Apple Card, and Apple Pay. Despite this all-encompassing Apple-centric ecosystem, however, few Americans are actually using Apple Pay in stores.
According to a new report from PYMNTS, "93.9% of consumers with Apple Pay activated on their iPhones do not use it in-store to pay for purchases." This result indicates that only 6.1% of Apple users use Apple Pay for making purchases in-store. That low figure is up from 2015, with 5.1% of respondents then used Apple Pay.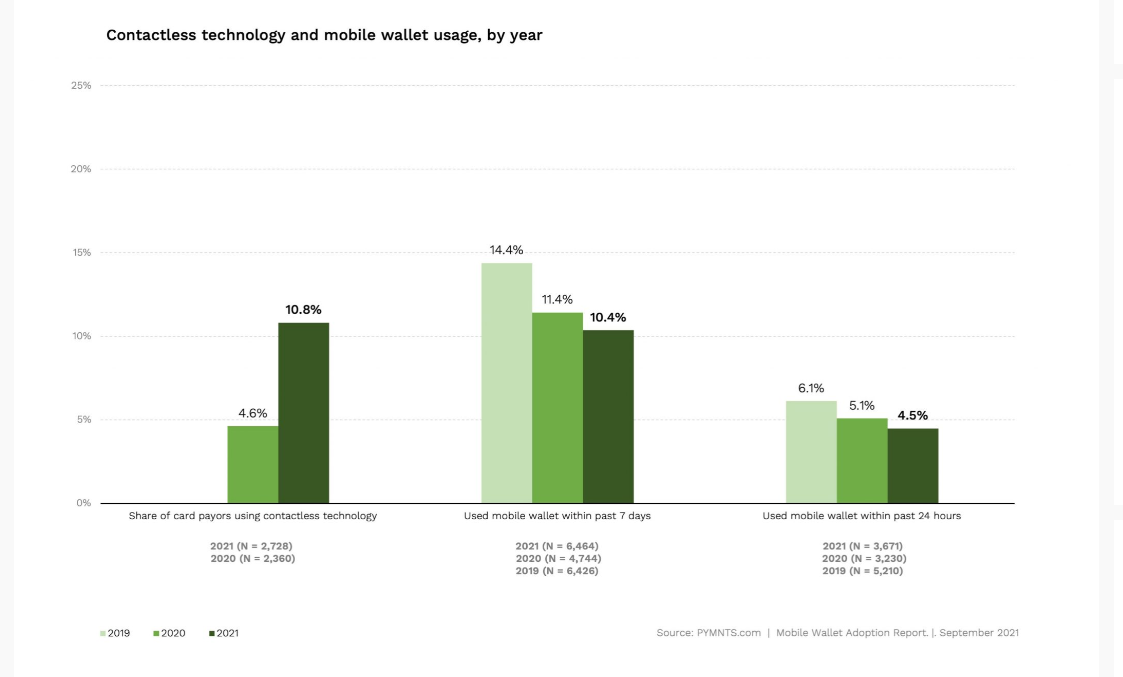 Tap & Go Payments Surging in Popularity
The small number of Apple Pay members using the service to make purchases in-store is surprising, given the rise in preference for contactless payments in the last two years. The coronavirus pandemic has seen a significant increase in consumers using contactless payments, with mobile wallets like Google Pay and PayPal enjoying substantial growth. Instead, customers are turning to their physical credit cards, with Tap & Go payments and EMV chip technology offering an equally simple way of making purchases in-store.
Even Apple's Apple Card offers contactless payments with the physical metal credit card, though the card prioritizes Apple Pay, with cardholders earning 2% cash back on purchases made through the Apple Pay app.
What the PYMNTS study indicates is that other mobile wallet services feel Apple's struggles. Mobile wallet use in-store declined 26.2% in 2020 – despite credit card use in-store rising 33.8%. Cash use also declined – with consumers using cash to make purchases 20% less than 2019.
Related Article: Digital Wallets 101: How to Add a Credit Card to a Digital Wallet
Featured image by Apple
Editorial Disclosure – The opinions expressed on BestCards.com's reviews, articles, and all other content on or relating to the website are solely those of the content's author(s). These opinions do not reflect those of any card issuer or financial institution, and editorial content on our site has not been reviewed or approved by these entities unless noted otherwise. Further, BestCards.com lists credit card offers that are frequently updated with information believed to be accurate to the best of our team's knowledge. However, please review the information provided directly by the credit card issuer or related financial institution for full details.