Last updated on March 8th, 2023
A new report is showing that Apple Pay is failing to gain a foothold in-store, despite having a significant advantage of other mobile wallets. PYMNTS data shows that despite the near-universal presence Apple has in many Americans' lives just 6% of consumers use Apple Pay to make purchases in-store.
Report: Apple Pay Use In-Store Lags Behind Online Purchase Usage 
Apple products are seemingly everywhere. The Apple iPhone is the go-to mobile phone for tens of millions of Americans, offering seamless integration with other Apple products, including iPads, Apple Watches, the Apple Card, and Apple Pay. Despite this all-encompassing Apple-centric ecosystem, however, few Americans are actually using Apple Pay in stores.
According to a new report from PYMNTS, "93.9% of consumers with Apple Pay activated on their iPhones do not use it in-store to pay for purchases." This result indicates that only 6.1% of Apple users use Apple Pay for making purchases in-store. That low figure is up from 2015, with 5.1% of respondents then used Apple Pay.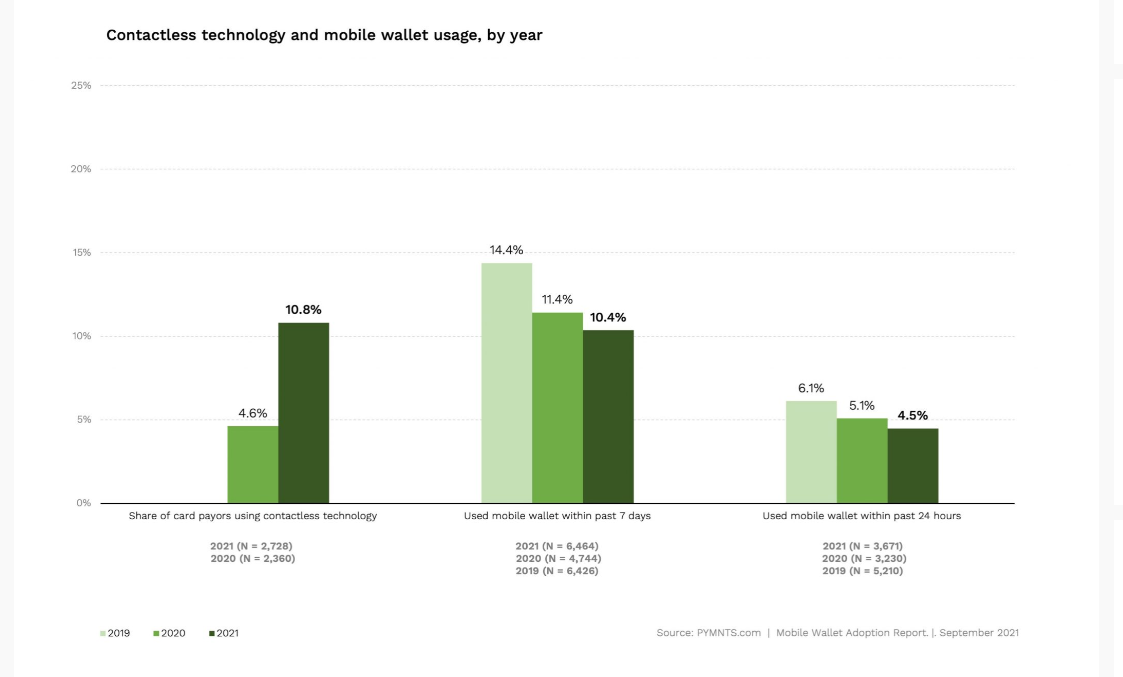 Tap & Go Payments Surging in Popularity
The small number of Apple Pay members using the service to make purchases in-store is surprising, given the rise in preference for contactless payments in the last two years. The coronavirus pandemic has seen a significant increase in consumers using contactless payments, with mobile wallets like Google Pay and PayPal enjoying substantial growth. Instead, customers are turning to their physical credit cards, with Tap & Go payments and EMV chip technology offering an equally simple way of making purchases in-store.
Even Apple's Apple Card offers contactless payments with the physical metal credit card, though the card prioritizes Apple Pay, with cardholders earning 2% cash back on purchases made through the Apple Pay app.
What the PYMNTS study indicates is that other mobile wallet services feel Apple's struggles. Mobile wallet use in-store declined 26.2% in 2020 – despite credit card use in-store rising 33.8%. Cash use also declined – with consumers using cash to make purchases 20% less than 2019.
Related Article: Digital Wallets 101: How to Add a Credit Card to a Digital Wallet
Featured image by Apple