Last updated on March 7th, 2023
Upgrade has launched a new product: Upgrade – Premier Savings, offering a 4.13% APY. The fintech, best known for its financial products in credit and mobile banking, has finally launched the Premier Savings account to consumers. Here's what you need to know about Upgrade's new APY savings account.
Upgrade Launches High Yield Premier Savings Account
The Upgrade Premier Savings account promises a 4.13% APY. According to the Upgrade website, the 4.13% APY is 13 times the national average, on $1000 or more. With an APY above the national average, the new Premier Savings account from Upgrade can help patrons reach their goals faster when it comes to saving money. On average the savings account interest rate in the U.S. was 0.20% as of October 17, 2022. Press Release.
Furthermore, the Premier Savings account is not limited to existing Upgrade card holders. The savings account operates with thousands of U.S. banks, meaning non-cardholders can make same-day transfers to and from any bank they currently use. Accountholders will have control over their high-yield savings account, online or through the Upgrade app.
To get the 4.13% APY, patrons must have a minimum of $1,000 in their savings account. Best of all, the savings account doesn't have fees typically found in other competitor products. So, the Upgrade Premier Savings account features no monthly fees, to maximize savings.
"Delivering Outstanding Value"
"Our mission is to help consumers move in the right direction with responsible financial products that put more money in their pockets," said Upgrade co-founder and CEO Renaud Laplanche. "Premier Savings achieves this goal with an exceptional APY coupled with no account fees or transfer fees, truly delivering outstanding value to consumers."
In addition, Upgrade has recently been named the fastest-growing U.S. credit card by the outstanding balance among the top 50 U.S. credit card issuers in the Nilson Report. Upgrade currently offers several credit card options, such as the Upgrade Triple Cash Rewards Visa® and the Upgrade Cash Rewards Visa®, just to name a few. You can check out the Upgrade products below and compare cards on the BestCards comparison tool on our site for your convenience.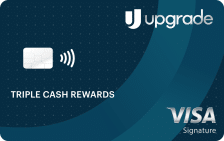 Unlimited Cash Back on Purchases
Earn 3% on Home, Auto and Health categories and 1% on everything else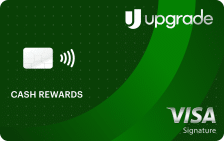 Unlimited 1.5% cash back on all purchases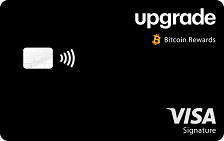 The First Widely Available BTC Credit Card
Earn 1.5% Cash back Rewards in BTC on every purchase

0 annual fee, $0 activation fees, $0 foreign transaction fees
Featured Image by evgenyatamanenko/Getty Images