Last updated on April 28th, 2021
Grand Reserve Rewards is providing members a chance to get their hands on exclusive and rare wines at a fraction of the price. The program recently launched The Vault, a unique portal that allows members to redeem their credit card points to score super rare and impressive wines for below market value.
Grand Reserve Launches Exclusive Wine Store "The Vault"
The Grand Reserve™ World Mastercard® is the ideal credit card for the wine enthusiast. Not only does the card earn up to 7X points on wine purchases and provide exclusive discounts at partner wineries, stores, and more, but members also receive a complimentary Priority Wine Pass – providing members with personalized tasting itineraries at some of the premier and family-owned wineries along the U.S. West Coast.
Now, Grand Reserve is taking its wine rewards program to the next level by launching its new rare and vintage wines shop: the Vault. The Vault provides Grand Reserve members access to some of the rarest wines on the market at exclusive members-only prices.
The new Vault is providing cardholders the chance to score some of the most coveted wines available. These wines are so exclusive that Grand Reserve limits members to one bottle, per month, per customer.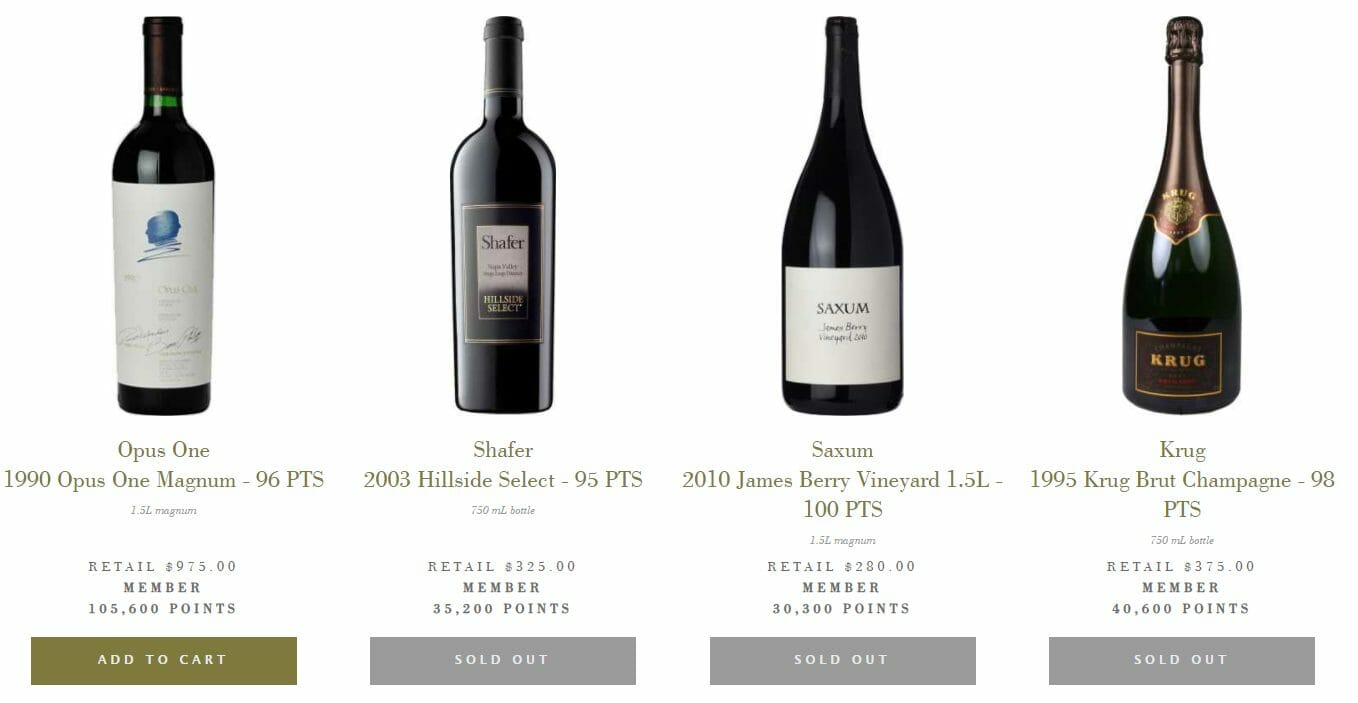 Exceptional Value for Real Rewards Members
Announcing the new Vault launch, Grand Reserve provided an actual testimonial from a satisfied Vault customer and Grand Reserve card member. That member used the Grand Reserve's impressive sign-up bonus of 50,000 points to purchase a valuable vintage wine to share with friends to celebrate their coronavirus vaccination:
"I was able to redeem points earned with my Grand Reserve credit card for a bottle of 1997 Harlan Napa Cab worth $1,000. I look forward to enjoying it with friends after being vaccinated. The decision to sign up for the Grand Reserve card turned out even better than expected."
Some other notable examples of the excellent wines Grand Reserve members have been able to score include:
2003 Shafer Hillside Select – 35,200 points
2010 Saxum James Berry Vineyard Magnum – 30,300 points
1995 Krug  Champagne – 40,600 points
2002 Louis Roederer Cristal Champagne – 38,000 points
1997 Harlan Estate Proprietary Red – 99,200 points
1990 Chateau Margaux –  113,400 points
Keep in mind that the initial sign-up bonus for the Grand Reserve World Mastercard is currently 50,000 points after making $3,000 in purchases within the first three months from account opening. This means that many of the above mentioned rare wines are attainable after only a modest spend within the first three months. And, since the Grand Reserve Card also earns 3X points at both bars and restaurants (and 2X on all other purchases), it's versatile enough to quickly reach that spending goal.  
Other Grand Reserve Rewards Exclusives
The launch of the Vault isn't the only way Grand Reserve is adding additional value to its cardmembers. Rewards members have also been treated to exceptional and exclusive invitations, such as attending an invite-only release party (with a complimentary tasting kit sent to them) at a world-class winery and attending a complimentary tasting event to sample a pre-release wine from a 100-point winemaker. Other additions include the ability to use points for "off-menu" wine tastings and experiences usually reserved for invite-only experiences. 
Related Article: The Best Credit Cards for Wine Lovers of 2020