Customers hoping to open a Capital One credit card account may still have hope if they are initially declined – but at a cost. As reported by Doctor of Credit, the Virginia-based issuer now offers applicants an alternative option if they do not initially qualify for their card of choice. The "adjusted terms" proposition, which appears during the application session, provides a higher APR, lower credit limit, and no signup bonus. Other aspects, such as the annual fee and the rewards earning rate, do not appear to change between the two versions of the same card.
Potential Benefits for Consumers
While a lack of introductory bonus, smaller credit line, or higher APR may disappoint consumers who hoped for better terms, there may still be a benefit for both them and Capital One. Individuals may still get the card they initially wanted. At the same time, they can earn rewards at the original rate, which bodes well for the card's longevity. A lower credit limit means a smaller credit utilization ratio. However, it also means smaller potential debt for the user and a smaller liability for the issuer in the case of default. Lastly, there is less pressure on the cardholder to spend in needlessly if there is no signup bonus to chase after.
Upside for Capital One?
For Capital One, the adjusted terms offer allows the bank to reach customers with lesser credit profiles, thereby encouraging spending and an active client base. Such effects echo particularly loudly given the recent impact of the global COVID-19 outbreak. The world economy has experienced significant blows from the virus and United States is considering several measures to keep banks afloat. Among these may be additional regulatory credits for institutions if they are able to offer new credit to borrowers experiencing hardship from the novel coronavirus.
At the same time, consumers may see the tactic as a bait-and-switch. In Capital One's eyes, the ostensible lower credit profile of these applicants may not justify offering a signup bonus. Either way, the offer appears to apply to both personal and business credit cards.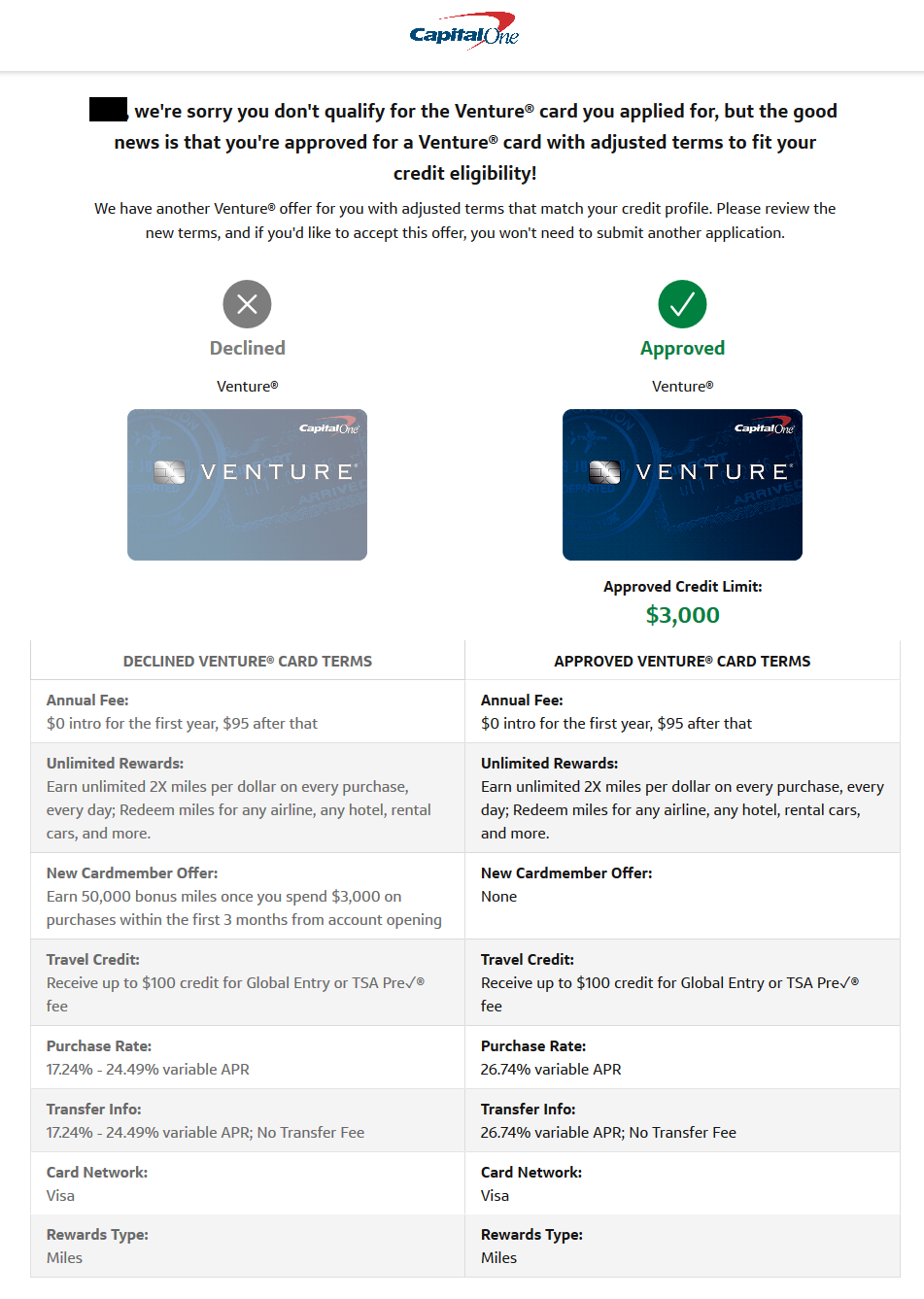 Editorial Disclosure – The opinions expressed on BestCards.com's reviews, articles, and all other content on or relating to the website are solely those of the content's author(s). These opinions do not reflect those of any card issuer or financial institution, and editorial content on our site has not been reviewed or approved by these entities unless noted otherwise. Further, BestCards.com lists credit card offers that are frequently updated with information believed to be accurate to the best of our team's knowledge. However, please review the information provided directly by the credit card issuer or related financial institution for full details.