Last updated on November 4th, 2021
Google Pay and Apple Pay have added support for the Coinbase Card to its payment platform. The addition of support for Coinbase on Google Pay follows on news of the addition of the card to the Apple Pay network – meaning Coinbase Cardholders can earn crypto rewards through the two largest mobile wallet apps in the United States.
Coinbase Adds Mobile Wallet Integration and Support
Coinbase, a leading cryptocurrency marketplace and rewards platform, has announced support for its upcoming crypto debit card with both Google Pay and Apple Pay. The new support and integration will make it even easier for Coinbase Card users to earn crypto rewards when making purchases anywhere Apple Pay or Google Pay are accepted in the United States – except for Hawaii.
The Coinbase Card is currently in the waitlist stage. Users already on the waitlist will receive an invitation to apply soon, although the exact timeframe is unknown. Coinbase initially eyed a winter 2020 release, but the company decided to push that back to sometime in 2021.
How to Add the Coinbase Card to Your Mobile Wallet
Once the card goes live, users can quickly add their new crypto debit card to both Apple Pay and Google Pay mobile wallets. Once approved for the card, iPhone users can add their card either through their Apple Wallet app or via the Coinbase mobile app. Android users can add the Coinbase Card through Google Pay by following the simple instructions through the app.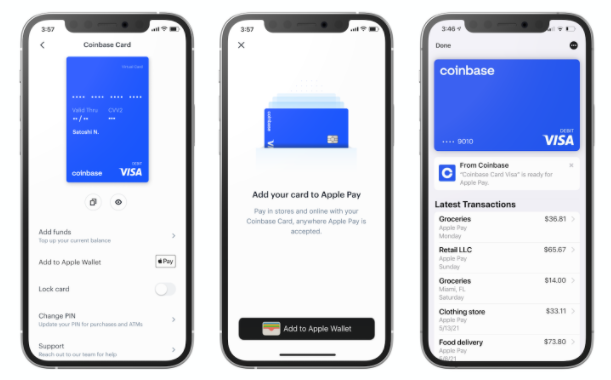 About the Coinbase Card
The Coinbase Card is a crypto rewards debit card that features up to 4% back on all Stellar Lumens (XLM) purchases or 1% back in Bitcoin (BTC). The card, a Visa debit card, allows users to seamlessly buy, sell, spend, and send cryptocurrencies around the world for no annual fee.
The Coinbase platform is available in over 30 countries and supports approximately 50 cryptocurrencies, including Bitcoin, Stellar Lumens, Ethereum (ETH), Binance Coin (BNB), Dogecoin (DOGE), Litecoin (LTC), and more.
Related Article: PayPal Adding Support for Third-Party Bitcoin Wallets
Featured image by geralt / PixaBay