The coronavirus pandemic has thrown the world into disarray. All aspects of daily life, from work to pay, are reeling from the COVID-19 virus – with no end in sight. One of the most significant areas of disruption is personal finance. Tens of millions of Americans currently find themselves furloughed, laid off, or facing the prospects of zero-hour contracts. Given the economic uncertainty, it may seem strange, but is now the right time to pay off credit card debt?
The Case for Consolidating Your Debts Today
While many might balk at the idea of consolidating their credit card debts and paying them off right away, the coronavirus pandemic has shown that the personal finances many thought were strong simply were not. And, while banks are providing relief from payments for customers, this is only a short-term solution. Eliminating pesky balances, such as credit card debt, is an excellent way to shore up family finances and provide some breathing space during uncertain times. One of the most popular methods for this is balance transfer credit cards. These cards operate by transferring part – or all – of an existing balance to the new credit card, then paying it all off at a lower interest rate.
Why Balance Transfer Cards Just Don't Work
Balance transfer cards do typically feature an APR that is lower than, say, a rewards credit card. They also usually offer a 0% introductory APR promotion for a period of between 6 to 18 months. Once this period ends, however, the card's "low APR" is still significantly higher than an installment loan – often by as much as 20%.
Is the Upgrade Card a Game Changer?
One of the more intriguing credit card offers covered by BestCards is the Upgrade Card. The card isn't like anything else on the market today, combining aspects of a traditional credit card and an installment loan.
Upgrade Cash Rewards Visa®
14.99%-29.99% variable based on creditworthiness and the Prime Rate

Regular Purchase APR

14.99% to 29.99%

Balance Transfer APR
At a Glance
The Upgrade Cash Rewards Visa® offers no fees, low rates, cash back, and credit lines from $500 to $25,000 in one unique package. The card provides consumers the flexibility and predictability to quickly pay down balances and get debt-free. The Upgrade credit card is one of the lowest regular APR credit cards on the market for those with excellent credit scores, putting it firmly on any list of the best balance transfer credit card deals – or any list of the best credit cards in the U.S.
Best Benefits
Rates & Fees
Why Should You Apply?
$200 bonus after opening a Rewards Checking Plus account and making 3 debit card transactions*

Earn 1.5% unlimited cash back on card purchases every time you make a payment

Combine the flexibility of a credit card with the predictability of a personal loan

No annual fee

No touch payments with contactless technology built in

See if you qualify in minutes without hurting your credit score

Great for large purchases with predictable payments you can budget for

Mobile app to access your account anytime, anywhere

Enjoy peace of mind with $0 Fraud liability

*To qualify for the welcome bonus, you must open and fund a new Rewards Checking account and make 3 qualifying debit card transactions from your Rewards Checking account within 60 days of the date the Upgrade Card account is opened. To qualify, debit card transactions must have settled and exclude ATM transactions. Please refer to the applicable Upgrade VISA® Debit Card Agreement and Disclosures for more information. Your Upgrade Card and Rewards Checking account must be open and in good standing to receive a bonus. If you have previously opened a Rewards Checking account or do not open one as part of this application process, you are not eligible for this welcome bonus offer. Welcome bonus offers cannot be combined, substituted, or applied retroactively. The bonus will be applied to your Rewards Checking account as a one-time payout credit within 60 days after the 3rd qualifying card purchase.
Regular Purchase APR: 14.99%-29.99% variable based on creditworthiness and the Prime Rate
Balance Transfer APR: 14.99% to 29.99%
Balance Transfer Transaction Fee: Up to 5%
Foreign Transaction Fee: Up to 3%
You struggle to pay off your credit card balances

You want a structured repayment plan

You can reliably pay off your statement balances to earn cash back for your purchases

You have a desire to get debt-free quickly

You hate penalty or other hidden fees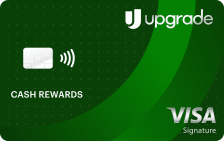 Upgrade works by offering an initial credit limit of up to $20,000. This credit line operates just like a regular credit card and can be used anywhere in the world Visa is accepted. But, uniquely, cardholders can also transfer some – or all – of the credit line into existing accounts to pay off those balances, consolidating them into one simple payment. Where the Upgrade Card differs from balance transfer cards, however, is the balance is converted into installment payments of between 12 and 60 months. Even better, the card features an APR starting as low as 8.99%.
Does Upgrade Really Offer Savings Versus Traditional Credit Cards?
Given the bold claims of the Upgrade Card, the BestCards team analyzed the evidence to see how effective the card is versus one's average credit card. Surprisingly, the math showed similar results to those on the company's website. These results indicate that paying off a $10,000 balance using just minimum payments was not only quicker with Upgrade, but also significantly cheaper, as well.  The average cardholder with an excellent credit score can repay that $10,000 debt in as few as two years – saving over 25 years and $12,000 versus traditional credit cards.
Other Things to Know About the Card
The other major talking point for the Upgrade Card is the lack of fees of any variety. This includes:
Annual fees
Monthly fees
Late fees
Penalty APR
Over-the-limit fees
The card also boasts no foreign transaction fees, which is a pleasant surprise for those who also want to use the card as a travel card to take advantage of the exceptional interest rates.
Should You Refinance to Pay Off Credit Card Debt?
Given the financial uncertainty of the times, plus average credit card debt of around $8,000 per American, now might be the ideal time to reevaluate how balances and debts are being financed. The Upgrade Card is an intriguing offer for those with good-to-excellent credit that want to quickly eliminate debt with minimal payments.
For more information, please check out our comprehensive Upgrade Card review.
Editorial Disclosure – The opinions expressed on BestCards.com's reviews, articles, and all other content on or relating to the website are solely those of the content's author(s). These opinions do not reflect those of any card issuer or financial institution, and editorial content on our site has not been reviewed or approved by these entities unless noted otherwise. Further, BestCards.com lists credit card offers that are frequently updated with information believed to be accurate to the best of our team's knowledge. However, please review the information provided directly by the credit card issuer or related financial institution for full details.