Last updated on August 4th, 2022
Credit cards come in all shapes and sizes (so to speak) – from issuers both big and small. With so many credit cards on the market, it is easy for some products to get lost in the shuffle – especially when multi-million dollar ad campaigns from leading banks get involved. Here are several of BestCards.com's picks for the best overlooked and under-the-radar credit cards:
The Best Under-the-Radar, Overlooked Credit Cards of 2020
Here are our top picks for overlooked credit cards of 2020:
The Alliant Visa Platinum Rewards is a credit card that flies unnoticed by most consumers. The card is actually a great choice for "under-the-radar" credit cards along with others from Alliant Credit Union. Another example is the Alliant Cashback Visa Signature Card.
The Alliant Visa Platinum Rewards Card earns 2X points on all eligible purchases. This rewards rate is equal to the Citi® Double Cash Card – 18 month BT offer – a feat even more impressive given that Alliant Rewards Card is available to those with average credit scores.
While Alliant Credit Union requires you to be a member to apply for their credit cards, joining is simple – and won't cost you a thing. Belonging to one of the union's partner organizations, such as the Freelancer's Union (which is free to join) or becoming a member of the Foster Care to Success (FC2S) organization, entitles you to membership. Even better, if you join FC2S, Aliant will pay the $5 membership fee for you.
The toggle® Card from Commerce Bank is a unique credit card that doesn't get the press it deserves. The toggle® Card connects to an existing Commerce Bank checking account, allowing cardholders to set-up autopay on specific purchases. This makes it possible to reduce their statement balance and keep their credit utilization as low as possible. However, if they wish to avoid paying for purchases, such as big-ticket or expensive items, they can carry the balance onto their statement and pay at the end of the month, as usual.
The toggle® Card is more than just gimmicks, however. The card also earns 3% back on coffee shops, fast food, and rideshares. The card also earns 2% back on dining – all for no annual fee. Those rewards rates aren't earth-shattering, but they create a well-rounded, exciting credit card for those who like to think outside the box.
The UBS Visa Infinite Credit Card is an ultra-premium travel credit card that is often shadowed by bigger names in the industry. The card only earns 3X points per $1 on commercial airfare and travel and 2X points on gas and groceries. However, it makes up for this shortcoming with luxury that even the staunchest Amex Platinum fan would envy.
Beyond a Priority Pass Select membership, UBS offers a $500 Any Airport Club statement credit, allowing cardholders to purchase access to lounges outside of the Priority Pass Network. Other travel perks include TSA Pre-Check statement credits, a $250 air travel statement credit, free Gogo inflight Wi-Fi, and savings on private jet bookings through NetJet (including a complimentary 12.5-hour Jet Card for new cardholders). Customers can also access exclusive Visa Infinite hotels and resorts, with an extra $700 service credit for stays at Villas of Distinction – should they need a massage, some champagne, or even a private chef after their long journey.
First Hawaiian Bank offers two excellent Priority Destinations personal credit cards. For the sake of this "Best of" list, the Priority Destinations World Elite Mastercard gets the nod. Why go with the card's annual fee version when the no-annual-fee Priority Destinations World Mastercard also provides a great value?
Firstly, the annual fee with the Priority Destinations World Elite Mastercard is a reasonable $50, which First Hawaiian waives for the first year. Second, the card offers a vast array of bonuses for cardholders, including an intro balance transfer APR offer, no foreign transaction fees, and two complimentary lounge visits per year via LoungeKey.
The Priority Destinations World Elite Mastercard is also an impressive travel rewards card for everyday use. The card earns 5X miles per dollar spent on travel purchases (up to $6,000 in purchases per year, then 2X miles per dollar after that); 2X miles on everyday purchases (gas, grocery, cable TV, phone, and other monthly utilities); and 1X miles per dollar on everything else.
Honorable Mentions
Want some more options to consider? Here are two cards that just missed out on our top spots: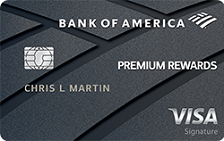 The Bank of America® Premium Rewards® Credit Card earns its "Premium" designation by showering customers with travel perks, introductory bonuses, and points rewards. Whether you travel for business or pleasure on a fairly regular basis, this card can help you get around in style and comfort without an unreasonable price tag.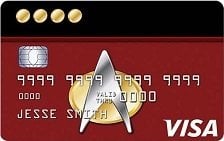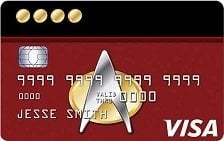 The Visa Star Trek™ Credit Card is a geek-chic rewards credit card from NASA Federal Credit Union. The card offers 3X points per dollar on purchases at StarTrek.com, 2X at gas stations, and 1X on everything else. New accounts get a 0% intro APR, and a basic cash back bonus. The card also comes in four unique designs that are certain to be a hit with Trekkies everywhere.
Featured photo by Free Photos / Pixabay