Last updated on August 8th, 2022
It's December and that means the holiday season is upon us once again. Struggling to find the perfect gift, looking to save on travel, or maybe you just want a card that can help make entertaining that much easier? Don't fret – the BestCards team has some credit card recommendations to help you save money and get dad the ideal present this year. Here are our best  credit card picks of December 2021 to help you find something just right for your needs.
The Best Credit Cards for December 2021
Here are our top credit cards picks for December 2021 and the holiday season:
The Sam's Club® Mastercard® was designed with everyday use in mind, but the card really shines around the holidays. Having family over for the holidays usually involves large stockpiles of food and drink, making the savings at Sam's Club locations on offer with the Sam's Mastercard a must.
The card earns 3% cash back on Sam's Club purchases when combined with an eligible Sam's Plus membership, plus 3% back on restaurant purchases – including takeout and delivery. These versatile categories make the card an ideal fit when planning holiday celebrations, buying last-minute gifts, or even entertaining friends and family at a local restaurant.
The value with the Sam's Club Mastercard extends beyond holiday preparations and dining, however. The card earns 5% cash back on gas purchases anywhere Mastercard is accepted. While that 5% back is capped on the first $6,000 per year in spending (after that, 1% back on all gas station purchases), that total amounts to $500 per month.
The combination of gas rewards credit card and Sam's Club value makes the card something of a no-brainer. For road trips, last-minute supplies, or even a new TV, the Sam's Club® Mastercard® packs plenty of "oomph" for no annual fee.
Another card seemingly tailor-made for the holidays is the Amazon Prime Rewards Visa Signature® Card from Chase.  The card offers cardholders impressive rewards on all Amazon.com and Whole Foods purchases, as well as 2% cash back at gas stations, drug stores, and restaurants.
The savings with Amazon.com and Whole Foods (both 5% back) provide an excellent platform for holiday savings – regardless of whether you are stocking up on batteries for toys, air mattresses for guests, or beer and wine for the festivities. New accounts also receive an Amazon gift card upon approval – providing a little extra spending power this year.
While the Amazon Prime Rewards Visa Signature has no annual fee, it does require holders to be an Amazon Prime member to get the best rewards. Non-Prime members only earn 3% back with Whole Foods or Amazon, which is something of a letdown.
The Discover it® Cash Back seems to make every "Best of" list – and it's easy to see why. The card is a cash back machine, thanks in no small part to its revolving cash back calendar.  Discover's 5% Cashback Calendar often includes Amazon.com, Target.com, and Walmart.com purchases in Q4, making the card perfect for online shopping.
The Discover It keeps providing, however, with Q1 2022, including grocery stores and gym memberships, so cardholders can enjoy the holiday season festivities – and then hit the gym in the New Year's.  Add to that Discover Cashback Match – offering a dollar-for-dollar, point-for-point match of a new cardholder's first-year cash back – and you have a winner this holiday season.
No "Best of" list for December would be complete without a juggernaut travel card – and the Platinum Card® from American Express is the go-to favorite here. Despite the card's increased annual fee (up to $695 from $550), the powerful travel perks and statement credits on offer make the card a no-brainer when planning travel.
The biggest perk of the card is the lounge access it provides. Cardmembers gain access to the prestigious Centurion Lounges from Amex and Delta's SkyClub and the 1,500+ Priority Pass locations worldwide. Travel is made just-that-more-easier thanks to TSA Precheck and a $175 CLEAR statement credit.
Regarding those statement credits: The Platinum Card offers a huge assortment of credits for everything from travel to fitness, entertainment to shopping. These statement credits include:
Streaming and Digital Entertainment Credit: Members get up to $20 back each month when they use their card to pay the subscription fee for Audible, New York Times, Peacock, or SiriusXM subscription costs.
Equinox Credit: Platinum Cardholders receive a $25 credit each month towards Equinox membership and services. Equinox is an upscale private gym with locations in major cities across the U.S.
Walmart+:Cardmembers receive a $12.95 statement credit when using the Platinum Card to purchase a Walmart+ subscription.
SoulCycle:Cardmembers receive up to a $300 credit when purchasing a SoulCycle bike with the Platinum Card (up to 15 bikes per year).
SAKS Fifth Avenue: Cardmembers receive up to $100 in statement credits annually for purchases at Saks Fifth Avenue.
Uber/ UberEATS: $200 Uber savings on rides or eats orders in the U.S. annually.
Airlines: Up to $200 in statement credits per calendar year in baggage fees and more when you select one qualifying airline.
While Equinox and SoulCycle credits won't appeal to all, the Walmart+ CLEAR, airline incidentals, and Uber credits are an exceptional value that really helps to recoup the card's annual fee.
Honorable Mentions
Want some more credit card options to consider? Here are two cards that just missed out on our top spots: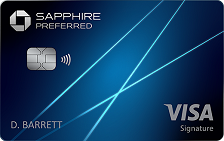 The Chase Sapphire Preferred® offers a robust set of rewards and perks to ensure that they get the most out of their purchases. Plus, a sizable introductory bonus allows them to begin collecting – and redeeming – points immediately.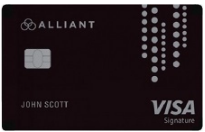 The Alliant Cashback Visa Signature® Credit Card offers one of the highest flat cashback rates on the market today. From Alliant Credit Union of Chicago, the card earns an impressive 2.5% cash back on all eligible purchases – a full percentage point higher than cards like the Amex Cash Magnet.