Last updated on June 30th, 2023
Advertiser Disclosure
close ×
Advertiser Disclosure – BestCards is an independent, Florida-based credit card comparison platform. Many of the card offers that appear on this site are from companies from which BestCards receives compensation. This compensation may impact how and where products appear on this site (including, for example, the order in which they appear). BestCards does not include all card companies or all card offers available in the marketplace.
Editorial Disclosure
close ×
Editorial Disclosure – The opinions expressed on BestCards' reviews, blogs, and all other content on or relating to the website are solely those of the content's author. They are not reflective of any card issuer or financial institution and have not been reviewed or approved by these entities unless otherwise noted. Further, BestCards lists credit card offers that are updated daily with information believed to be accurate to the best of our knowledge.
Starbucks Rewards Visa Card
16.74% to 23.74% variable based on creditworthiness and the Prime Rate

Regular Purchase APR

16.74% to 23.74% variable based on creditworthiness and the Prime Rate

Balance Transfer APR

25.74% variable based on the Prime Rate

Cash Advance APR
Best Benefits
Rates & Fees
Why Should You Apply?
Get 4,500 Stars after you spend $500 on purchases in the first three months

Earn 300 Bonus Stars the first time you use your Starbucks Rewards™ Visa Card to add money to your account

3X Stars per $1 spent at Starbucks

1X Stars per $2 spend at grocery stores, local transit and commuting, and on Internet/cable/phone services

1X Stars per $4 spent outside of Starbucks stores

Stars never expire
Regular Purchase APR: 16.74% to 23.74% variable based on creditworthiness and the Prime Rate
Balance Transfer APR: 16.74% to 23.74% variable based on creditworthiness and the Prime Rate
Balance Transfer Transaction Fee: Either $5 or 5% of the amount of each transfer, whichever is greater
Cash Advance APR: 25.74% variable based on the Prime Rate
Cash Advance Transaction Fee: Either $10 or 5% of the amount of each transaction, whichever is greater
Penalty APR: Up to 29.99% variable based on the Prime Rate
Annual Fee: $0 for the first year; $49 after that
Foreign Transaction Fee: 3% of the transaction amount in U.S. dollars
Late Payment Penalty Fee: Up to $40
Return Payment Penalty Fee: Up to $40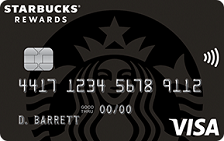 Starbucks Rewards™ Visa Card Review
The Starbucks Rewards™ Visa Card is a must-have for fans of this popular coffeehouse chain. The Starbucks Visa rewards cardholders with Stars for every purchase made, which can earn cardholders free Starbucks drinks, foods, and merchandise. Additionally, cardholders get access to many Visa credit card benefits.
Earn Stars on Every Purchase
The Starbucks Rewards™ Visa functions almost like an extension of the coffeehouse's Rewards™ program, which gives members points for purchases made at Starbucks. These points are called Stars and can earn customers free drink upgrades, meals, and other Starbucks products. What sets this Rewards card apart from Starbucks regular rewards program is that cardholders can earn points on any purchase anywhere.
Naturally, cardholders earn more Stars for purchases made at Starbucks stores – 3 Stars for every $1 spent. This beats out the regular rewards program, which only offers 2 Stars for ever dollar spent. Starbucks card holders also earn 1 Star for every $2 spent on groceries, local transportation, and telecommunications services, like internet, cable, and phone. Any other purchases earn cardholders 1 Star for every $4 spent.
However, there are a few purchases that cannot earn cardholders any stars. Many people may already be aware that many rewards cards do not grant points for balance transfers or cash advances. In addition, the Starbucks Visa card will not earn cardholders any points on any type of gambling transactions, such as buying lotto tickets, placing bets, or buying casino gaming credits or chips.
Stars do not expire for cardholders while their accounts are active, which is another advantage of having a Starbucks Visa card. Under the regular Starbucks Rewards program, Stars expire 6 months after a customer earns them. If a cardholder closes the credit card account, he or she has up to 6 months to redeem those Stars before they expire.
4,500 Stars after Spending $500
New Starbucks cardholders can also earn a 4,500 bonus Stars if they spend $500 within the first three months after getting approved. This bonus is technically only available to new cardholders. However, people who had a Starbucks Visa card in the past may also qualify for this bonus if they have not received any Starbucks Visa bonuses in the last 24 months.
Cardholders will have to wait between 6 to 8 weeks for these bonus stars to post to their accounts. Additionally, a cardholder's account must still be open and in good standing to receive those points. In other words, card holders who are behind on their payments or have closed their accounts will not be able to earn those bonus points.
If a new cardholder were to spend $500 in the first 3 months of getting the card, he or she would have roughly earned 13 Stars for every dollar spent. If you convert that to a cash value, each star is worth just under $0.08.
How Much Are Stars Worth?
6,800 points within the first 3 months can sound very appealing when someone is shopping around for a new credit card, but it's also important to know what Starbucks Stars are actually worth to a cardholder. When it comes to cashing in Stars, Starbucks has several redemption tiers:
25 Stars – Beverage modifier, such as an espresso shot, syrup, or dairy substitute
50 Stars – Brewed coffee, tea or bakery items
150 Stars – Frappuccino, breakfast sandwich, pre-packaged snack item
200 Stars – Lunch sandwich, salad, protein box
400 Stars – Starbucks merchandise limited to $20 in value
So, what does this all mean in dollars? Perhaps the most basic Starbucks order is a grande (medium) brewed coffee, which retails for around $2. The same medium coffee is worth 50 Stars. If a cardholder wants to purchase that coffee with Stars, he or she would have to spend about $16 at Starbucks.
Forty-five days after getting approved for a new card, cardholders are eligible for 1 free Barista Picks menu item every 6 weeks. Cardholders receive 8 complimentary Barista Picks every 12 months. The offer will automatically appear on the cardholder's Rewards account. However, cardholders cannot stash these rewards, and they must use the coupon within 30 days of it being issued.
Because the Starbucks card is a Visa card, there are several additional perks that are available on almost all Visa cards. Cardholders can extend warranty protections with their Starbucks Rewards™ Visa cards and get up to $500 per claim to cover damage or theft to purchases.
People who drive a lot for work or pleasure will also love Visa's auto rental collision damage waiver and roadside dispatch services. Just think of it as added driver protection for being a Visa cardholder.
Additionally, the Starbucks Visa card can save the day if something unexpected happens while traveling. If a cardholder needs to cancel a trip due to sickness, severe weather, or other covered circumstances, Visa can reimburse the cardholder up to $1,500 per person for any non-refundable travel fares. Visa is also there to help in case of any travel emergencies, providing phone assistance and referrals while cardholders are away from home.
Should You Apply for Starbucks Rewards™ Visa Card Review?
The Starbucks Rewards™ Visa Card is great for die-hard Starbucks fans, and it can be particularly beneficial if you regularly purchase Starbucks products for a business, such as regularly treating an office or clients to Starbucks during meetings. You can start redeeming your rewards as soon as you earn 50 Stars, which would require you to spend about $16 at Starbucks or between $100 to $200 elsewhere.
If you manage to spend $500 on your new Starbucks card within the first 3 months of receiving it, you essentially qualify for 136 cups of free coffee, which has a retail value of about $285. The good news is that you can use these stars whenever you want, as they don't expire for cardholders like they do for regular rewards members.
If you like to shake things up from time to time at different coffeehouses, or you just don't want to be limited to where you can earn rewards, you may want to consider a rewards card that offers broader benefits, such as a cash back credit card. The Starbucks card also charges an annual fee in addition to balance transfer fees. While the annual fee is relatively low, it does add to the bottom line of how much you will have to spend in order to get any of the perks of this card.
The additional benefits that Visa provides cardholders are attractive, but they do come standard in many Visa cards. If you decide to apply for this credit card, make sure to take full advantage of these features to make these fees worth your while.
International travelers should note that this credit card a 3% fee for every purchase made outside of the United States. Coupled with the fact that you can only redeem your rewards at Starbucks locations in the US and Canada, this feature may leave some travelers with a bitter taste rather than the rich, bold flavors that this coffee chain is known for.
Browse Other Chase Credit Card Offers: