Last updated on July 26th, 2023
Advertiser Disclosure
close ×
Advertiser Disclosure – BestCards is an independent, Florida-based credit card comparison platform. Many of the card offers that appear on this site are from companies from which BestCards receives compensation. This compensation may impact how and where products appear on this site (including, for example, the order in which they appear). BestCards does not include all card companies or all card offers available in the marketplace.
Editorial Disclosure
close ×
Editorial Disclosure – The opinions expressed on BestCards' reviews, blogs, and all other content on or relating to the website are solely those of the content's author. They are not reflective of any card issuer or financial institution and have not been reviewed or approved by these entities unless otherwise noted. Further, BestCards lists credit card offers that are updated daily with information believed to be accurate to the best of our knowledge.
20.99% variable based on the Prime Rate

Regular Purchase APR

20.99% variable based on the Prime Rate

Balance Transfer APR

28.24% variable based on the Prime Rate

Cash Advance APR
Best Benefits
Rates & Fees
Why Should You Apply?
No annual fee

No foreign transaction fees

Earn 1 point per dollar spent on Icelandair purchases

Earn 0.5 points per dollar spent on all other pucrhases
Regular Purchase APR: 20.99% variable based on the Prime Rate
Balance Transfer APR: 20.99% variable based on the Prime Rate
Balance Transfer Transaction Fee: Either $10 or 5% of the amount of each transfer, whichever is greater
Cash Advance APR: 28.24% variable based on the Prime Rate
Cash Advance Transaction Fee: Either $15 or 5% of the amount of each cash advance, whichever is greater
Late Payment Penalty Fee: Up to $40
Return Payment Penalty Fee: Up to $35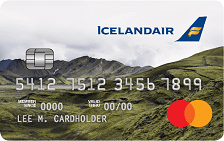 At a Glance     
The Icelandair Mastercard® is a no annual fee airline card from Icelandair and First Bankcard. The card offers very basic rewards, a decent signup bonus, and no foreign transaction fees – but little else.
Ideal for Those Who:
Want an occasional travel card with no foreign transaction fees
Are planning a European vacation
Don't want to pay an annual fee
Icelandair Mastercard® Review
If you are seeking a big earning airline card, the Icelandair Mastercard® is not for you. The card earns just a single point per dollar spent on Icelandair purchases – and half a point for every other dollar spent on purchases.
The card also comes with an easy 5,000 points introductory bonus for making a first purchase with the card. That is a nice bonus but does little to damper the lackluster earning potential of the card.
How to Redeem Points & Saga Club Loyalty Program Guide
Points with the Icelandair Mastercard apply towards the airline's frequent flyer program, Icelandair Saga Club.
Saga Club points apply towards award flights, upgrades, and purchases with partners. These partner awards include flights with some leading airlines, hotel stays, rental cars, and more.
Current Icelandair partners include:
Air Iceland connect
Hertz
Sixt
and more
Saga points also count towards status upgrades with the program itself. Icelandair divides its Saga Club's status tiers into three groups – Saga Blue, Saga Silver, and Saga Gold.  The Saga Blue tier is the entry tier and offers little beyond earning points through the program.
Saga Silver
Saga Silver is the middle tier of the loyalty program and offers some decent perks.  Members enjoy the chance at upgrades between flight classes on Icelandair flights, access to the Icelandair lounge at Keflavik Airport in Reykjavik, premium check-in, priority waitlist, baggage benefits, and more
Reaching silver status requires the member to reach 40,000 tier credits within a 12-month period. After that, they'll need to earn 30,000 credits per year to maintain silver status. While not as generous as the 10,000 points with the Premium Mastercard, the 5,000 bonus points with the basic Icelandair Mastercard® are a good start on the journey.
Saga Gold
Gold is the premium tier in the Saga Club program and offers the highest-level of perks. Saga Gold members enjoy all the same perks as Silver members, plus the following:
Complimentary limousine service
Free parking at Keflavik Airport in Reykjavik
On-board Wi-Fi
Security fast-tracks
Priority customer service support
Spouse card
The spouse card is a unique feature that provides Gold members with an additional Gold card to give to their spouse, providing them with all the same features of the primary account holder for the same duration of their Gold status.
Silver Saga Club members need to earn 0,000 Tier Credits within 12 months to get upgraded to Gold. After that, they will need to earn 70,000 points per year to maintain that status.
Other Card Features
Other notable features of the no annual fee Icelandair Mastercard® include no foreign transaction fees and World Mastercard protection and benefits, including:
ShopRunner:Free membership providing 2-day shipping with over 120 leading online retailers.
World VIP Concierge:24/7 concierge service for airports, travel, and any other concerns.
Mastercard Luxury Hotel Collection: Complimentary upgrades, late checkout, and more at over 2,000 properties worldwide.
Cell Phone Protection: $1,000 in coverage per year ($600 per claim) if your phone is lost, stolen, or broken. Cardholders must pay their phone bill with an eligible card. Terms and conditions apply.
ID Theft Protection
Zero Fraud Liability
Global Emergency Services
Regarding the APR, there really isn't too much to discuss. The card features the same fixed-rate APR as the Premium version – and that is decidedly average. The rate closely mirrors our estimate for the average APR of an airline rewards credit card – currently around 18%.
Should You Apply for the Icelandair Mastercard®?
What, then, should you make of the Icelandair Mastercard®? The no annual fee card just does not make sense for the regular European or Icelandic traveler, especially when double the points are available with the Premium Card for just $39 per year more.
Even as a back-of-the-wallet travel card, the no annual fee version isn't a good bet. The Propel from Wells Fargo offers a much greater value for no annual fee. And while that card features Amex as the payment network, plenty of others with Visa or Mastercard offer better value with no added fees. Some examples of these include the Priceline Visa,  Bank of America® Travel Rewards, or the Capital One® VentureOne®.
Browse Other Card Offers: