Last updated on September 19th, 2023
Advertiser Disclosure
close ×
Advertiser Disclosure – BestCards is an independent, Florida-based credit card comparison platform. Many of the card offers that appear on this site are from companies from which BestCards receives compensation. This compensation may impact how and where products appear on this site (including, for example, the order in which they appear). BestCards does not include all card companies or all card offers available in the marketplace.
Editorial Disclosure
close ×
Editorial Disclosure – The opinions expressed on BestCards' reviews, blogs, and all other content on or relating to the website are solely those of the content's author. They are not reflective of any card issuer or financial institution and have not been reviewed or approved by these entities unless otherwise noted. Further, BestCards lists credit card offers that are updated daily with information believed to be accurate to the best of our knowledge.
15.24%, 18.24%, or 24.24% variable based on creditworthiness and Prime Rate

Regular Purchase APR

15.24%, 18.24%, or 24.24% variable based on creditworthiness and Prime Rate

Balance Transfer APR

24.9% variable based on the Prime Rate

Cash Advance APR

0% for 12 months from account opening date

Intro Purchase APR
Best Benefits
Rates & Fees
Why Should You Apply?
Earn 5% on the first $5,000 spent every year, then 2% unlimited earnings on purchases thereafter

Up to $250 in statement credits for in-dealership purchases

Unlimited earning and redeeming

Earnings never expire

Combine BuyPower® Card earnings with existing vehicle offers
Intro Purchase APR: 0% for 12 months from account opening date
Regular Purchase APR: 15.24%, 18.24%, or 24.24% variable based on creditworthiness and Prime Rate
Balance Transfer APR: 15.24%, 18.24%, or 24.24% variable based on creditworthiness and Prime Rate
Cash Advance APR: 24.9% variable based on the Prime Rate
Cash Advance Transaction Fee: Either $10 or 3% of the amount of each cash advance, whichever is greater
Late Payment Penalty Fee: Up to $38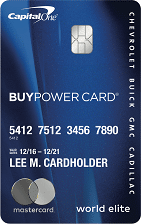 Saving up for a new vehicle can be sped up significantly when you use the BuyPower® Card from Capital One. Every year, you'll earn 5%back on your first $5,000 in purchases, and then an unlimited 2% on all purchases afterward to use towards the lease or purchase of a new General Motors vehicle.
Are planning on purchasing a Chevrolet, Buick, GMC or Cadillac for your next vehicle
Will spend at least $5,000 on this card per year
Have an excellent credit score with no blips on your credit report
Do not want to pay annual fees, transfer fees, or foreign transaction fees
The BuyPower® Card is particularly strong auto rewards card if you're a prospective new owner of a Chevrolet, Buick, GMC or Cadillac, as every purchase will earn either 5 or 2% back to put towards a new vehicle. But it isn't just new car buyers who get to have all the fun.
Current GM drivers will still find themselves nicely rewarded with an annual $250 in statement credit for in-dealership purchases just for being a cardholder. The statement credit includes the purchase of a vehicle as well as accessories, parts, service, and even subscription extras.
While the card does not offer bonus categories, it features a competitive earning rate that makes it a viable addition for your regular credit card lineup. You may not want to set aside your cash back rewards cards for this one, but it is a handy card to have on hand for the purchases that popular rewards categories tend to miss, such as utilities or superstore purchases (i.e. Target, Walmart).
Other outstanding features of the GM BuyPower® Credit Card include no annual fees or foreign transaction fees, and World Elite Mastercard® Benefits that include a $1 million travel accident insurance policy.
Earning GM BuyPower Rewards
Sadly, there is no signup bonus or introductory offer to kickstart new cardholders' GM earnings but the strength of the card's regular earning structure is rewarding enough to offset that slight drawback. Plus, without bonus categories to pigeonhole your card's functionality, this card has the flexibility to cover all those in-between purchases your other rewards cards don't cover.
Earn 5% back on all purchases up to the first $5,000 and 2% on all purchases, paving the way for some serious GM savings. Maxing out the 5% earnings would net $1,350 per year, and then the 2% back (comparable to some of the best flat rate cash back credit cards out there) would result in a return that's none too shabby.
One of the greatest strengths of this card compared to other auto cards is that the BuyPower card isn't reliant on trips to the dealership. No need to stop seeing your family's trusted mechanic just to score a purchase bonus. GM cardholders will have a lot more freedom to maximize their earnings in a way that matches their existing buying habits.
When this strong earning potential is paired with the fact that GM BuyPower earnings never expire, this all adds up to the BuyPower card being powerful tool for earning thousands of dollars towards the down payment for a new vehicle just through everyday purchases. These earning can also be combined with current offerings or even employee discounts to help supercharge savings and get thousands off of the manufacturer's suggested retail price for a new GM vehicle when purchasing or leasing.
Should You Apply for the BuyPower Card?
If you're a loyal Chevrolet, Buick, GMC or Cadillac driver, you can't go wrong with owning the GM BuyPower® Card. Whether you anticipate buying a new vehicle in the next year or next 10 years, this card has a strong setup that will provide a consistent and strong value year after year.
BuyPower card earnings can only be used towards obtaining a new GM vehicle – but since they don't expire, you have the luxury of waiting until you've accumulated enough to cover the total purchase price, or you can simply use what you have towards a down payment.
Browse Other Capital One Credit Card Offers: