Last updated on November 3rd, 2020
Now that the coronavirus stimulus payments are starting to roll out, millions of Americans are making the most of the funds to pay off bills, buy supplies, or just enjoy themselves during the quarantine. If you are like many, however, you may not have received your payment just yet. Here's what you need to know about your coronavirus stimulus payment if you still haven't received it.
Economic Impact Payment Eligibility
The coronavirus stimulus check is officially known as the Economic Impact Payment by the Internal Revenue Service (IRS). These payments stem from the Coronavirus Aid, Relief, and Economic Security Act, or CARES Act.
Those who qualify are eligible for up to $1,200 per person for an individual or the head of the household; $2,400 for married couples that file their taxes jointly; and $500 per child under the age of 17.
Who's Eligible for the Full Stimulus Payment?
Coronavirus stimulus checks are available to the following individuals: U.S. citizens, permanent residents, or qualifying resident aliens. Income eligibility is based on either the 2019 income tax return or the 2018 return (if they have not yet filed for 2019) of each individual.
The full payment is available to those who are not a dependent of another taxpayer, have an eligible Social Security Number (SSN) and have an adjusted gross income of up to:
$75,000 for individual filers
$112,500 for the head of household filers
$150,000 for married couples filing jointly
Those with incomes above the limits mentioned can still receive a stimulus payment, albeit a reduced amount. This reduction is $5 for every $100 in adjusted gross income, up to $99,000 for single filers, $136,500 for heads of households, and $198,000 for married couples.
Where's My Stimulus Payment?
If you received an income tax refund within the last two years and had that refund directly deposited, you likely will not have to do anything. The IRS will deposit the funds into the account provided.
If you have not received a refund and the IRS does not have your direct deposit banking information on file, you don't have to worry about waiting for a paper check in the mail. Here's what you need to do:
Step 1: Visit the IRS.gov website and click on the "Get Coronavirus Tax Relief" tab.
Step 2: Click "Check your payment status."

Step 3: Click "Get My Payment," and then click the same tab on the next page.
Step 4: Enter your information requested, including your SSN, date of birth, address, and zip code.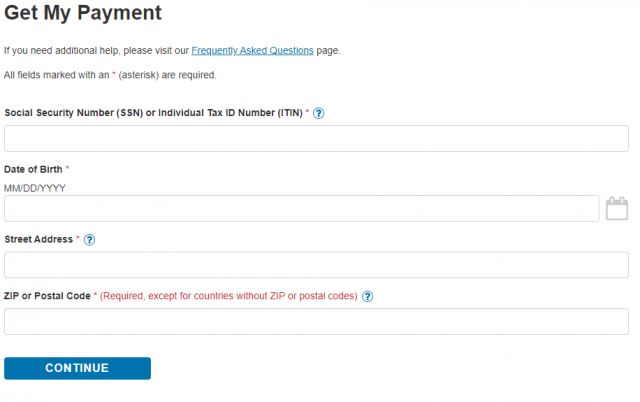 Step 5: Enter the bank account information for the direct deposit. You will need your account number and the routing number.
Step 6: You're all set. The IRS updates its website once per day, so make sure to check back to see when the agency will deposit your stimulus payment.
What If I Can't Receive a Direct Deposit?
Can't get a direct deposit? Or, maybe you prefer a paper check? Either way, if you are eligible for the Economic Impact Payment, you will still receive one – it just may take longer.
The IRS began sending out checks this week, but the process might take time – all the way up to September. The first checks will target those with lower incomes, with the IRS sending more checks each week.
To ensure you get your check, make sure the IRS has your current address. Otherwise, the payment will be sent to the address the IRS has on file. The agency will also send a letter detailing the payment and where it was sent within 15 days of the payment date.
How to Manage Your Finances During Coronavirus
If you are still waiting for your coronavirus stimulus payment and need help with your finances, there are steps you can take now to help reduce your financial strain.
Coronavirus Credit Card Relief
Most credit card issuers are offering relief for those suffering from the economic impacts of the COVID-19 pandemic. If you have a credit card, contact your issuer to see if you qualify for forbearance, meaning you can skip payments for the next month. This can save you time and significantly reduce your financial stress.
Related Article: Updated Coronavirus Credit Card Relief Contact Information
Check Your Credit Report
Keep an eye on your credit report. Checking your credit report regularly can help you stay safe from coronavirus fraud and allow you to ensure everything in your report is accurate.
Related Article: Why It's Important to Check Your Credit Report Now
Consider a Prepaid Card
If you need access to your paycheck faster, consider looking into a prepaid card. Many prepaid cards provide advance access to paychecks – sometimes up to two days quicker. Want to learn more? Browse BestCards' selection of prepaid card offers.
Don't Be Afraid to Break the Rules of Credit Cards
Because of the widespread impact of the coronavirus pandemic, many of the financial rules experts swear by don't apply. This is undoubtedly true for credit cards. Don't worry too much about credit utilization or carrying a balance, for instance. In difficult situations like these, you need to do what's best for your own unique situation.
You also shouldn't be afraid to consider getting another credit card. This is especially true if you have existing debt you want to refinance or consolidate. Credit cards like the Upgrade Card provide the ideal platform for transferring your current balances into one payment, then paying that off at an exceptionally low-interest rate.
Related Article: Is Now the Right Time to Eliminate Your Credit Card Debt?