The new Experian State of Credit report  for 2021 is highlighting a trend towards lower non-mortgage debt and higher credit scores for most Americans. The new findings echo other studies that show Americans are responding to the coronavirus epidemic with financial responsibility – while refinancing mortgages at record rates. Here is what you need to know about the latest Experian State of Credit report:
Experian State of Credit Report Shows Rising Credit Scores, Lower Debt
American's credit scores are rising, according to Experian's annual State of Credit report. The yearly report highlights a seven-point increase in the average American's VantageScore in the second quarter of 2020 despite no additional stimulus checks. The 695 average credit score means that American's credit scores are at the highest level in over a decade – despite the continuing economic turmoil of the coronavirus pandemic.
Here is the data from the Experian State of Credit report: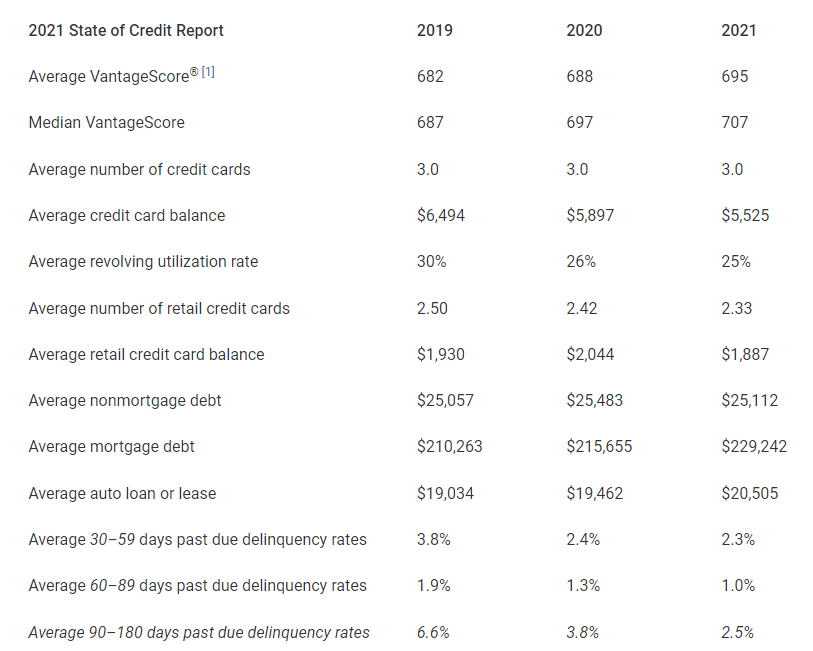 Gen-Z Lagging Behind Others
The Experian report's findings echo other studies that show American's are responding to the economic uncertainty of the COVID-19 climate with greater financial responsibility. A recent Northwestern Mutual study showed that American adults are carrying lower non-mortgage debt levels than previous years.
According to the Experian data, all age groups saw a drop in credit utilization and overall card balances – with the exception of Gen Z. While non-mortgage debt was down for all groups, mortgage debts were up. This rise in mortgage balances owed is likely related to historically low interest rates that have led many consumers to refinance existing mortgages and many to purchase their first properties.
"It's becoming clearer that millennials are stepping into the homebuying phase in a big way. Once thought to be the generation of apartments and urban revival, many older millennials are now buying homes and moving to the suburbs much like their parents before them," said Joseph Mayans, principal economist at Advantage Economics LLC, a Salt Lake City-based financial analytics firm. "This will have significant implications for the post-pandemic world, especially as work from home becomes more prevalent."
"People used their stimulus dollars to stay on top of their bills and pay down debt, which boosted average credit scores across all generations," he added. Generally, the report "shows the overwhelming success of the fiscal support packages."
Related Article: What Are the Easiest Credit Cards for Bad Credit to Get?
Featured image by Experian