Last updated on April 7th, 2023
The PayPal Cashback Mastercard just got a whole lot better. Synchrony has announced major changes to the cash back credit card, with cardholders now earning 3% back on PayPal purchases in addition to the already impressive 2% back on all purchases.
Synchrony Makse Changes to the PayPal Cashback Mastercard
Significant changes are coming to the PayPal Cashback Mastercard from Synchrony. New and existing PayPal Mastercard cardholders will soon earn an unlimited 3% cash back on PayPal purchases – with no caps on the total amount of rewards earnable. That 3% back is on top of the unlimited 2% cash back cardholders already earn on all other purchases anywhere that  Mastercard is accepted worldwide.
The ability to earn 3% back on PayPal is exceptional. The service already provides extensive online coverage, but many retailers and restaurants are beginning to accept PayPal QR codes as a payment method. This, in turn, means the opportunities to earn up to 3% back continue to grow.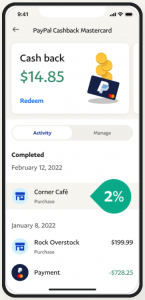 The PayPal Cashback Mastercard is like many other cash back credit cards, but with a key difference. Cash back is applicable towards the minimum balance due, depositing in external bank accounts, or a user's existing PayPal account for making purchases at more than 35 million locations (and growing). Most card issuers wait until the end of the monthly billing cycle before debiting points or rewards. The cash back rewards with Synchrony's PayPal credit card are available online almost immediately.
New Welcome Bonus
Synchrony is also adding a new sign-up bonus for new applicants. Once the 3% cash back on PayPal purchases offer goes live, new PayPal Mastercard applicants will earn applicants a $100 welcome bonus after the first $500 spent on purchases in the first three months.
Coming Soon
"Our customers shopped across 34 different categories last year, showcasing the diversity of their needs and interests, and we wanted to build a credit product that was flexible and better-matched rewards with their spending behaviors," said Susan Schmidt, VP of Consumer Credit, PayPal, in a statement accompanying the news.
The waitlist for the relaunch is available here. Currently, there is no known public date for the card's relaunch.
Related Article: Cardless to Launch LATAM Credit Card in 2022
Featured image by kreatikar/PixaBay