Last updated on May 2nd, 2022
Discover has revealed its full 5% Cashback Calendar for 2022. The new 2022 calendar sees a few changes to Discover's 5% bonus lineup, with the addition of mobile wallets to Q4 2022 being the most noteworthy change.
Discover Launches 2022 5% Cashback Calendar
The new Discover 5% Cashback Calendar is here. The popular bonus calendar provides Discover It Cash Back cardholders with up to 5% cash back on eligible purchases each quarter, with bonus categories changing every three months.
Cardholders earn 5% back on the first $1,500 in quarterly spending on select categories, with those 5% back categories for 2022 being: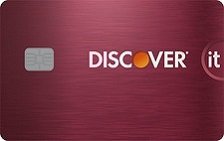 2022 Cashback Calendar Vs. 2021 Cashback Calendar
The 2022 Cashback Calendar compares very favorably with the 2021 Calendar. As a refresher, here are the 2021 Cashback Calendar categories:
Q1: Grocery Stores, Walgreens, and CVS
Q2: Gas Stations, Wholesale Clubs, Streaming Services
Q3: Restaurants and PayPal
Q4:com, Target.com, and Walmart.com
Q1 sees a switch towards fitness, with the Discover It earning 5% back on groceries, fitness clubs, and gym memberships. Last year, the card earned 5% back on groceries, Walgreens, and CVS purchases. This change reduces the potential value for everyday spenders – but could help cardholders meet their New Year's resolutions (or at least save them money when they start them, anyways).
Q2 2022 is equally pleasant, with Target joining gas stations as the accelerated 5% category. 2021 saw Gas stations, wholesale clubs, and streaming services, so there is some loss here – but the addition of Target (usually a Q4 category) should provide exceptional value for the Spring months.
Q3 2022 and Q3 2021 remain the same, with PayPal and restaurant purchases earning up to 5% back. These categories are perennial favorites – and provide exceptional value.
Q4 is intriguing, as it breaks away from the norms of past Discover Cashback Calendars. Amazon.com, Target.com, and Walmart.com have become so synonymous with Discover's cash back program over the holiday season that its tough to see it go. That said, the addition of digital wallets is exceptional, as it provides a versatility that makes the Discover It useful pretty much everywhere. This one small change offers the greatest potential for the card – and makes it one of the more valuable holiday spending cards on the market.  
Related Article: Credit Card Application Rules for Major Banks
Featured image by Discover