The impact of coronavirus on the U.S. economy is evident. Now, however, data is emerging to show how severe the damage really is. A new report by the Consumer Finance Protection Bureau (CFPB), "The Early Effects of the COVID-19 Pandemic on Credit Applications," lays bare the impact of the coronavirus on credit card applications.
The Study's Findings
According to recent findings from the CFPB's Office of Research, COVID-19 has had an immediate effect on the number of new credit applications this year. This effect applies across the board, with all forms of credit applications dropping significantly during March.
The CFPB notes a 40% drop in credit card applications in March; a 52% drop in auto loan applications; and a 27% drop in new mortgage applications.
The study indicates that those with higher credit scores are more likely to avoid new applications, though those with subprime scores are also shying away from more credit. New credit card applications for super-prime credit score (above 780) dropped 67%. While those with deep-subprime credit (a score below 500) also declined by 37%, the differences between excellent credit applications and poor credit applications are pronounced.
Coronavirus is the Culprit
While the CFPB could not pinpoint if the drops were due to a decrease in demand, a reduction in credit supply, or other factors, the underlying cause of COVID-19 is without question. This drop in credit applications follows weeks of record unemployment numbers, issues with unemployment in states like Florida, and banks reduced credit limits.
The study also found that geographic areas hardest hit by the coronavirus experienced the biggest drops in new credit applications. Of note, however, was no correlation between the rate of coronavirus cases and revolving credit applications.
Economic Disparity and COVID-19
The study underlines the discrepancies between individuals on both ends of the credit spectrum. Those with excellent credit scores have greater financial flexibility than those with poor credit. This financial fallback reduces the need for new credit, in lieu of existing resources. Those with bad credit, however, are more likely to fall into an overreliance on credit to make ends meet.
These findings also follow on the heels of a report that more than 140 million Americans are deeper in debt now than they were a month ago, due to the coronavirus. The report found that millennials, plus those with low credit scores, were the hardest hit. These findings further underline the importance of credit repair and maintenance.
Repairing Credit During COVID-19
Those seeking to protect – or repair – their credit have a variety of tools at their disposal. The major credit bureaus are now offering free credit reports through 2020, allowing consumers to closely monitor their scores. Additionally, paid services, such as MyFICO, and TransUnion, provide advanced security, personalized guidance, and more.
Related Article: How to Repair Your Credit from Your Couch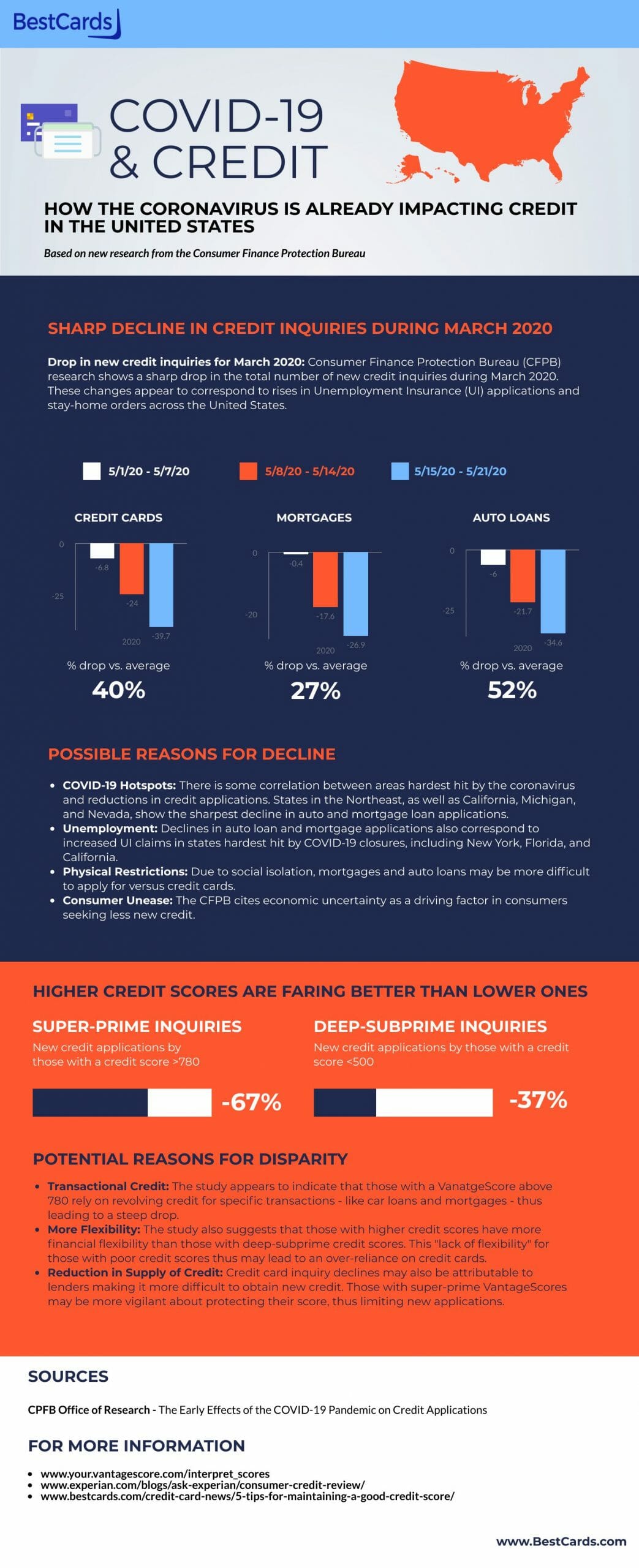 Editorial Disclosure – The opinions expressed on BestCards.com's reviews, articles, and all other content on or relating to the website are solely those of the content's author(s). These opinions do not reflect those of any card issuer or financial institution, and editorial content on our site has not been reviewed or approved by these entities unless noted otherwise. Further, BestCards.com lists credit card offers that are frequently updated with information believed to be accurate to the best of our team's knowledge. However, please review the information provided directly by the credit card issuer or related financial institution for full details.