If you're on the hunt for a new car whether it be for personal use or business, there are credit cards that can help with your purchase. Or at least credit cards that can earn you rewards for purchases at specific dealerships, gas stations, restaurants, and more. Consider these facts when it comes to auto rewards cards and determining if they're worth it for you.
Auto Rewards Cards: Are They Worth It?
Credit cards are an excellent tool for everyday use. There are gas rewards cards, travel cards, hotel cards – all designed to entice cardholders to skip paying with debit cards or cash and use their card instead. Recently, more and more lenders have begun offering automotive rewards cards to tempt consumers to use their credit card as a way to earn rewards towards cashback – either on parts or as savings towards a new vehicle.
Auto Rewards Cards
The DrivePlus℠ Mastercard® is one such card. Offered by First Bankcard (a division of First National Bank of Omaha), the FCA DrivePlus Mastercard is a co-branded set of credit cards aimed towards those who are loyal to their automotive brand. There are currently six different DrivePlus cards available, each of which we have covered here on BestCards:
How Do Auto Rewards Cards Work?
Cards, such as the Ram Mastercard, are specifically targeted towards those who love their cars or trucks and want to save money on parts and services. The DrivePlus cards earn 5% cashback on dealership spends, plus 2% cashback on gas and travel purchases and 1% everywhere else. While the cashback savings are significant with these cards, the real bonus comes when redeeming. Redeeming your cashback at the dealership earns you double the rewards, meaning gearheads who like to shell out on their favorite rides can save some serious cash when they are looking to trade-in for a newer model.
Other Auto Rewards Cards
FCA and Fist Bankcard don't have the automotive rewards credit card scene all to themselves, however. There are auto rewards cards for every taste and hobby. If you prefer a little luxury in your life, for instance, perhaps consider the Lexus Pursuits Platinum Visa. Like, the DrivePlus cards, this card earns 5x points at the dealership and 2x points on gas, but with the added benefit of dining and entertainment – ensuring that you earn great rewards for living life to the fullest. 
For those that live their life off-road, Polaris – one of the leading names in ATVs – also offers a rewards card. This allows cardholders to earn 2x points at Polaris dealerships or gas stations, and single points for all other purchases. Points earned with the card are redeemable for Polaris Cash, which cardholders can use at participating Polaris dealerships.
Auto Credit Cards For Business
In addition to auto credit cards for luxury and ATV lovers, you can also find auto cards for businesses and more. For example, General Motors auto credit cards offer options depending on your auto needs. GM has credit cards for personal use, business, and for GM employees. If you seek an auto credit card for your business, you may want to consider The GM Business Card™. Otherwise, you may want to browse our site for other business credit cards that may better suit your business needs.
The GM Business Card turns your business purchases into rewards you can later redeem for use towards a GM vehicle purchase. The card has much to offer business owners looking to expand their business fleets. The GM Business Card™ may be the right option for businesses needing company cards for their employees too. It gets up to 5% back in Earnings on things like dealership parts, services, gas stations, restaurants, and more.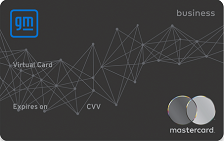 0% Intro APR on Purchases
5% in Earnings on GM dealership parts, accessories or services

3% in Earnings on purchases at gas stations, restaurants, and office supply stores
On the other hand, the My GM Rewards Card™ is an auto credit card for personal use. It's the only U.S. co-branded card that offers unlimited 4x points on all purchases and no annual fee. However, the card has earning potential of up to 7x points with GM. It also has a low introductory APR on purchases for the first 12 months, all for no annual fee, no foreign transaction fee, and more.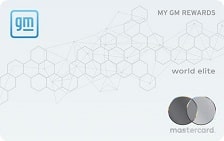 0% Intro APR on Purchases
Earn unlimited 7x total points with GM

The only U.S. co-branded card that offers unlimited 4x points on all purchases
How Do Auto Rewards Cards Compare to Other Rewards Cards?
You may be wondering what the benefit of an auto rewards card like the Ram Mastercard or the Polaris Visa Rewards and, say a rewards card from a retailer that also sells vehicles, such as the Bass Pro Shops Outdoor Rewards Credit Card? Put simply, auto cards earn increased points at dealerships and offer double rewards redemptions at dealerships. What this means is that they are designed pretty much exclusively towards those who want a card that can help them purchase a new vehicle.
| | | |
| --- | --- | --- |
| My GM Rewards Card™ | DrivePlus Mastercard® | Toyota Rewards Visa® |
| Earn up to 7X points on GM purchases, including service, parts, and accessories at participating dealerships, and 4X points on eligible purchases outside of GM | Earn 5% back on FCA US purchases, 2% back on gas and travel purchases, and 1% back on all other purchases | Earn 3X points at Toyota dealerships, 2X on gas, dining, and entertainment, and 1X on all other purchases |
| 15,000 points and 0% intro APR offer | $100 back after spending $1,000 in first 90 days | N/A |
Looking for a new Credit Card?
Are you thinking about getting an automotive rewards credit card to help you save up for a new vehicle? Or, perhaps you are already in love with your classic ride, but want to earn cash back that can be applied towards hard-to-find or expensive dealership parts? At BestCards.com, our expert team of credit card editors is continually researching and reviewing credit cards of every type and style – including auto rewards cards. Whether you are a Dodge or Jeep enthusiast looking to save up for a newer model, or an off-roader that wants to get rewarded for purchases they make to tune up their Polaris ATV, we've got you covered.
We have a comprehensive collection of all the leading credit cards, including impartial reviews and a detailed run-down of all the key facts and figures you need to make an informed decision. Whether you are looking for an airline rewards card, a hotel rewards card, a cash back credit card, or even a secured credit card to help boost your poor credit score, at BestCards.com we are here to help you choose the ideal card.