International students can have a difficult time adapting to life in the United States. Beyond the culture clashes, new dishes, and unique;y American slang, establishing credit in the U.S. can be extremely challenging. Fortunately, credit cards like the Sable Secured Credit Card and Deserve EDU Mastercard are ideal for helping students build credit – regardless of their nationality. 
Sable ONE Secured Mastercard or Deserve EDU Mastercard: Which Is Right for You?
Both the Sable and Deserve Mastercards enjoy popularity among credit-building consumers – but which is best? Here is the breakdown of the cards over key credit categories:
Here is all the information you'll need to apply for both credit cards:
What Information Do You Need to Open a Sable Secured Mastercard Account?
Name
Address
Email address
Phone number
SSN (for verification purposes)
If you don't have an SSN, then the following will be required:
Copy of Passport
U.S. Address
U.S. Visa or Non-Tourist I94 entry of your U.S. visit
To apply for a Sable One Secured Card, applicants will need an existing Sable bank account. Sable accounts operate through the Sable mobile app (available through the Apple App Store and Google Play Store). Once a member, they simply need to navigate to the Sable One Card in the Cards screen of the Sable app and click 'Increase credit limit.
What Information Do You Need to Apply for the Deserve EDU Mastercard?
Name
Address
Email address
Phone number
SSN (for identification/verification purposes)
External bank account information
Deserve uses non-traditional cardholder screening to help make its credit card products more readily available to a wider proportion of eligible students. The Deserve application process includes linking your bank account to the application to provide additional factors to help improve application success odds.
International students should have the following information before applying:
Copy of passport
U.S. student visa
Most recent I-20 or DS-2019 form
Latest U.S. bank account statements
Because both cards are designed for those new to credit, the typical FICO credit score for an applicant for the Sable Secured and Deserve EDU is around 580 to 640. Both credit cards are available for applicants with credit scores ranging from 300 to 850, thanks to their non-traditional application scoring.
Does the Card Build Credit?
Both cards are great for building credit when combined with financially-responsible habits. Despite that, how the two credit cards build credit differs significantly.
The Deserve EDU Mastercard, for instance, is an unsecured credit card for students. As a student credit card, the Deserve EDU offers students (both international and domestic) the chance to build credit in the traditional sense. This means that cardholders can make purchases and pay them off as they would with any credit card without a security deposit.
On the other hand, the able One Secured Mastercard is a secured credit card. The cardholder will need to stump a security deposit to open the card account. Fortunately, many secured cards like Sable feature low deposit minimums, making it easy to open an account and begin building credit.
Here is a quick breakdown fo some of the key fees with both cards:
Neither credit card features an annual fee:
Deserve EDU – No annual fee
Sable ONE Secured Mastercard – No annual fee
Beyond no annual fees, both cards also feature no foreign transaction fees on international purchases. The lack of an international transaction fee is yet another reason why both cards are exceptional values for students of any nationality, but especially so for foreign students new to the United States and looking to build credit – both here and abroad.
The Deserve EDU credit card doesn't offer exceptional rewards, but it does provide basic cash back on every purchase. Cardholders earn 1% cash back on all eligible purchases. Those rewards aren't exceptional, but they are a great addition to the overall package.
Rewards with Deserve are redeemable s statement credits in intervals of $25. Statement credits allow you to pay down your card's balance with cash back.
The complimentary Amazon Prime Student membership is equally enjoyable after meeting a minimum spending goal within the first three billing cycles. Prime offers free shipping, streaming videos and music, and more for members, meaning students enjoy real value with this bonus – a $59 value. Spend $500 in the first three months, and the Prime membership is yours.
When it comes to building credit, Sable is king. But the card also provides exceptional rewards for students (or anyone else for that matter) with every purchase. Cardholders earn unlimited 2% cash back on purchases with the following select brands:
| | |
| --- | --- |
| Amazon | Spotify |
| Hulu | Uber and Uber Eats |
| Netflix | Whole Foods |
Cardholders also earn an unlimited 1% back on all other eligible purchases, the same earning rate as the Surge Secured Mastercard. Cash back rewards are automatically credited to the cardholder's Sable banking account that can be used to pay down the card's statement balance.
Equally impressive is Sable's cashback match after year one. Like Discover, Deserve offers EDU cardmembers receive a dollar-for-dollar match on all cash back at the end of their first year. Sable's Double Cash Bonus is no small perk.
Here is a list of other key features of both credit cards:
Sable One provides an exceptional selection of features for no annual fee. These perks and protections include premium Mastercard features like:
Cellular telephone protection for loss, theft, or damage when the bill is paid with the Sable Card
Mastercard Zero Fraud Liability protection
Purchase assurance and price protection coverage
Mastercard card rental insurance
Mobile wallet compatibility with Google Pay, Apple Pay, and Samsung Pay
The Deserve EDU also provides excellent features, including:
Mastercard featureslike Collision Damage Waiver, ID Theft Protection, and Zero Fraud Liability
Cellphone protection for up to $600
Three months of Text + Talk through Mint Mobile
Here is a quick recap of all the features of both cards: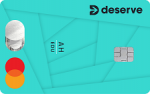 Receive one year of Amazon Prime Student on Deserve after spending $500 in the first three billing cycles with your EDU card (Lifetime Value of $59)
Earn 1% Cash Back on all purchases 
Cell phone protection up to $600
No international transaction fees 
No Social Security Number required for international students to apply