Credit card debt is something millions of Americans deal with regularly. According to the Federal Reserve in New York, Americans owe more than $14.3 trillion in total debt – $4.12 trillion being partly made up of credit card debt. Fortunately, there are quick and efficient ways to repay debts. But what are the cheapest ways to pay off credit card debt?
Quickly Paying Off Credit Card Debt: At a Glance
Balance transfer credit cards and debt consolidation loans are the two fastest – and cheapest – ways to pay off credit card debt
Balance transfer credit cards offer low introductory APRs for paying down debt
Personal debt consolidation loans provide a lower everyday interest rate for paying off debt
The Upgrade Card is the best of both worlds – featuring a debt consolidation loan, a low APR, and the purchasing power of Visa
The Cheapest Ways to Pay Off Credit Card Debt – Fast
The two most effective methods of cheaply paying off credit card debt are via balance transfer credit cards and personal, debt consolidation loans.
Balance Transfer Credit Cards
Balance transfer credit cards are an excellent option for paying off credit card debt. The balance transfer process is relatively simple:
Apply for a balance transfer credit card
Submit a balance transfer request with your application, including all relevant bank and credit card information
Pay off the existing balance once it's added to your new credit card
Balance transfer cards usually offer a 0% intro APR period, which makes them ideal for paying off a credit card balance without the added interest charges.
Debt Consolidation Loans
Debt consolidation loans, also known as personal loans, are another quick way to pay off credit card debt. Personal loans come from a variety of lenders, including popular options like Upgrade, Smarter Loans, OppLoans, and Even Financial.
Debt consolidation loans offer several benefits versus balance transfer credit cards:
Personal loans provide a lower interest rate than credit cards. The average APR for a balance transfer credit card is approximately 16.99%. Many debt consolidation loans feature interest rates in the 10% range, making them more affordable over the length of the loan terms.
Debt consolidation loans streamline the repayment process. Using a personal loan to pay off debt allows users to make one payment each month – instead of several credit card payments.
Debt consolidation loans have some disadvantages, however. The costliest of these concerns is the fact that many lenders charge an upfront closing cost to complete the loan. Closing costs can run into the hundreds – or thousands – of dollars, which may increase the amount an individual must repay.
The Upgrade Card – The Best of Both Worlds
The Upgrade Card is a unique approach to quickly pay off credit card debt. The card is a hybrid – a mix of debt consolidation and personal loan and a balance transfer credit card.
The Upgrade Card works by extending a credit line of up to $20,000. The card is a hybrid product, working both as a Visa credit card and a type of personal loan. Cardholders can use their Upgrade account to transfer their credit line to existing accounts, paying them off to create one balance. In this regard, the Upgrade is akin to a debt consolidation product.
Upgrade Cash Rewards Visa®
14.99%-29.99% variable based on creditworthiness and the Prime Rate

Regular Purchase APR

14.99% to 29.99%

Balance Transfer APR
At a Glance
The Upgrade Cash Rewards Visa® offers no fees, low rates, cash back, and credit lines from $500 to $25,000 in one unique package. The card provides consumers the flexibility and predictability to quickly pay down balances and get debt-free. The Upgrade credit card is one of the lowest regular APR credit cards on the market for those with excellent credit scores, putting it firmly on any list of the best balance transfer credit card deals – or any list of the best credit cards in the U.S.
Best Benefits
Rates & Fees
Why Should You Apply?
$200 bonus after opening a Rewards Checking Plus account and making 3 debit card transactions*

Earn 1.5% unlimited cash back on card purchases every time you make a payment

Combine the flexibility of a credit card with the predictability of a personal loan

No annual fee

No touch payments with contactless technology built in

See if you qualify in minutes without hurting your credit score

Great for large purchases with predictable payments you can budget for

Mobile app to access your account anytime, anywhere

Enjoy peace of mind with $0 Fraud liability

*To qualify for the welcome bonus, you must open and fund a new Rewards Checking account and make 3 qualifying debit card transactions from your Rewards Checking account within 60 days of the date the Upgrade Card account is opened. To qualify, debit card transactions must have settled and exclude ATM transactions. Please refer to the applicable Upgrade VISA® Debit Card Agreement and Disclosures for more information. Your Upgrade Card and Rewards Checking account must be open and in good standing to receive a bonus. If you have previously opened a Rewards Checking account or do not open one as part of this application process, you are not eligible for this welcome bonus offer. Welcome bonus offers cannot be combined, substituted, or applied retroactively. The bonus will be applied to your Rewards Checking account as a one-time payout credit within 60 days after the 3rd qualifying card purchase.
Regular Purchase APR: 14.99%-29.99% variable based on creditworthiness and the Prime Rate
Balance Transfer APR: 14.99% to 29.99%
Balance Transfer Transaction Fee: Up to 5%
Foreign Transaction Fee: Up to 3%
You struggle to pay off your credit card balances

You want a structured repayment plan

You can reliably pay off your statement balances to earn cash back for your purchases

You have a desire to get debt-free quickly

You hate penalty or other hidden fees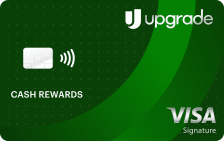 Interest rates with the Upgrade Card start as low as 6.99% and Upgrade offers individual repayment plans, ranging from 12 months to 60 months.  Studies show that this blend of low APR and personalized repayment plans reduce the costs of paying off debts.
This process allows individuals to pay off their credit card debt and save money towards emergency funds at the same time – just by making the minimum payment each month.
Related Article: How Long Does It Take to Repair Your Credit Score?
Editorial Disclosure – The opinions expressed on BestCards.com's reviews, articles, and all other content on or relating to the website are solely those of the content's author(s). These opinions do not reflect those of any card issuer or financial institution, and editorial content on our site has not been reviewed or approved by these entities unless noted otherwise. Further, BestCards.com lists credit card offers that are frequently updated with information believed to be accurate to the best of our team's knowledge. However, please review the information provided directly by the credit card issuer or related financial institution for full details.