Last updated on March 16th, 2023
Fintech companies, startups, and neobanks are seemingly everywhere these days. While the concept of  cryptocurrency and fintech companies disrupting the banking sector aren't new, their foray into the credit card market is. Here are some of the best fintech and cryptocurrency credit card offers:
Credit Card Picks Summary
Bitcoin and Cryptocurrency Credit & Debit Cards
Cryptocurrencies, like Bitcoin, Litecoin, Ethereum, and countless others offer an excellent way to invest in digital assets. Crypto rewards cards, including crypto credit, debit, and prepaid cards, offer cash back rewards in the form of cryptocurrency – meaning you might earn much more than traditional rewards credit cards!
Crypto credit cards are quickly becoming a popular option for savvy consumers who want to maximize their rewards. Cryptocurrencies, like Bitcoin, offer unprecedented chances of growth, with simple cash back having the potential to grow exponentially!  
Upgrade Visa® Card with Bitcoin Rewards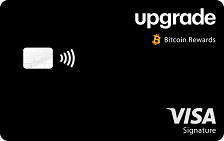 The First Widely- Available BTC Credit Card
Earn 1.5% Cash back Rewards in BTC on every purchase

No annual fees, no foreign transactions fees
The Upgrade Bitcoin Rewards is a tough-to-beat credit card for fans of crypto rewards and low interest rates. The interest rates are the same as with other Upgrade Cards, making it among the best in the business. The ability to pay down debt – and earn BTC with every purchase – is another perk that makes the card something that provides everyday value.
Earning BTC rewards on every purchase doesn't require a credit check. There are an ever-growing number of prepaid and debit cards that offer crypto rewards. These cards offer seamless integration with crypto wallets and rewards sites – and allow users to maximize their BTC savings with every purchase.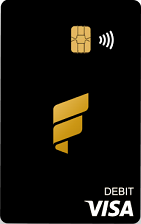 Sign-Up and Get +5,000 Sats
Earn Bitcoin Rewards On Everything!

Win Up to 100% Back on Every Purchase

Every Purchase Earns a Spin
The Fold crypto debit card is an exciting option to consider for those that don't want the hard inquiry on their credit report but want to earn rewards with every purchase. And, since the market for Bitcoin has generally been hot over the past few years, the chance is there to make significantly more money in BTC than you'd typically get with a credit card. Fold cardholders earn a spin every time they make an eligible purchase of $3 or more. Make a purchase, get a spin. It's that simple. Some of the rewards on offer include 25% back in Bitcoin rewards, fixed amounts (around $2.50 worth of Bitcoin crypto), or even a single Bitcoin – currently trading at over $30,000 per coin!
Other BTC Credit & Debit Cards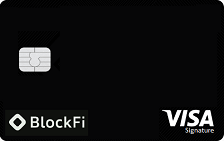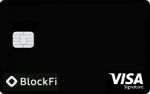 BlockFi Rewards Visa® Signature Credit Card
Earn Unlimited Cash Back Back in Bitcoin
✔ Earn Unlimited 1.5% Back in Bitcoin

✔ No annual fee and no foreign transaction fees

✔ Earn 2% back in bitcoin on every purchase over $50,000 of annual spending

✔ Earn 3.5% back in bitcoin during your first 3 months
Fintech Credit & Debit Cards
Fintech companies (also known as financial technology) is the latest trend that is disrupting the credit card industry. Fintech companies are taking a fresh look at the credit card market and offering applicants something new. These new features include saying goodbye to fees, changing how consumers pay down debt, and offering the types of perks and rewards that many major issuers are ignoring.
Credit cards for investors aren't new, with Amex offering several cards for Charles Schwab customers. Still, fintechs are finding a way to disrupt even the investment space, with lucrative credit and debit cards that allow customers to earn rewards on their investment funds – and then reinvest those savings to watch their brokerage accounts grow!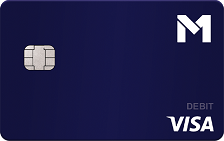 Make Your Investments More Rewarding
Seamlessly integrates with M1's Invest services

Earn 1% back when you spend & 1% APY w/ M1 Plus
The M1 Spend Visa® Debit Card is a great option to consider for investors with significant holdings within the M1 Invest program and want to earn additional rewards through the M1 Spend Plus Account. Earning 1% APY and 1% back on purchases is a great feature for those with $25,000 or more in investments, as the $125 is easily offset by the additional value from that APY. Add to that no foreign transaction fees, extra trading hours, and special financing on M1 Borrow, and you have an impressive checking and investment package in one.
Because fintech firms lack much of the overhead of large multinational banks, they can provide better cash back rewards and exceptional interest rates at the same time. Cash back rewards are quickly becoming the most popular type of credit card reward as redemption options like statement credits, gift cards, and direct deposits open the possibilities for unlimited options for those points.
Upgrade Triple Cash Rewards Visa®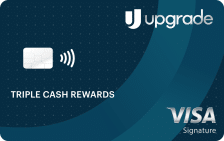 Unlimited Cash Back on Purchases
Earn 3% on Home, Auto and Health categories and 1% on everything else
The Upgrade Triple Cash Rewards Visa® is a versatile, impressive credit card for those that want an exceptional APR, solid rewards, and a whole lot more. The addition of up to 3% cash back on home, auto, and health purchases is equally impressive and makes the card an everyday earner that just so happens to help you reduce your existing credit card debt. Plus, since those rewards can be applied towards statement credits, using the card every day can really help put a dent in existing debt in no time!
Finding the best secured credit card may seem like a headache if you have no credit or bad credit. Fintechs are also breaking new grownd with secured credit cards – offering unique ways to establish a positive credit history without the need for a credit check.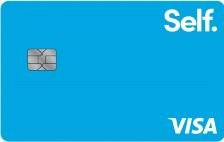 Get the Savings Plan That Helps Build Credit Today!
Monthly reporting to 3 major credit bureaus
The Self Credit Builder Account and associated Secured Visa® Credit Card are an excellent combination for quickly building a positive credit history. Because the two accounts work together seamlessly, meeting the minimum requirements and paying on-time doubles the impact on your credit score. The card has no formal approval process. Instead, hopeful consumers simply need to open a Self account and save over $100 to fund the secured Visa account.
Related Content with More Credit Building Credit Card Options