Last updated on April 16th, 2021
Secured credit cards offer one of the best ways to build a positive credit history. Because secured cards require a security deposit to open, they are easier to receive than unsecured credit cards for people with bad credit. Before applying for a new card, make sure you study your options to ensure you get the best credit card for your unique needs. Here are some of the best secured credit cards for improving bad credit – or no credit history – of 2021.
The Best Secured Credit Cards of 2021
Are you looking to rebuild your damaged credit or establish a credit history for the first time? Here are some of our favorite secured credit cards for people with limited credit, bad credit, or no credit history at all:
The OpenSky Visa is one of the best secured credit cards on the market – and it is easy to see why. One reason why is because OpenSky requires no credit check. The card's application process is straightforward and takes just a few minutes. Decisions are equally quick, making the entire process fast and painless.
The OpenSky credit education hub offers a range of articles on building credit, making it a useful partner in building up credit knowledge. These topics include how to receive a free copy of your credit score, how credit scores are calculated, tips on boosting credit, and other advice related to the OpenSky card.
Other reasons to consider the OpenSky Visa include the relatively low minimum deposit required and regular reporting to the three major credit bureaus (Equifax, Experian, and TransUnion.
The Self Visa is a secured credit card with a twist. Self requires a Self Credit Builder Account before opening a secured credit card, meaning applying for the card isn't like other cards on the market.
Applying for a Credit Builder Account is simple. Consumers apply for an account through Self (with no hard pull on their credit report), make their payments as required by the terms of their account, and watch their credit score grow each month. Once they accumulate $100 or more in their Credit Builder Account, holders can opt to fund a Self Visa Secured Card.
Since there is no hard inquiry with either the Self Visa or the Credit Builder Account, building credit through Self is an excellent option for those worried about any short-term harm to their credit score. Plus, since the card requires the credit builder loan to open, cardholders enjoy 2X the credit building power, thanks to the double on-time payment reporting to the major credit bureaus.
The Assent Platinum Card is unique among secured credit cards in that it offers an introductory APR. The card boasts an impressive 0% intro APR on purchases for the first six months, making it ideal for anyone who wants to build credit and make a purchase at the same time.
The card is perfect for those planning a significant purchase, as they can use those funds to open a secured Mastercard account (minimum deposits start at $200). Once the account is opened, they can use their card to make the planned purchases, then pay off that buy over six months with no additional interest charges. This process lets them make their purchase and build their credit score at the same time.
The Oakstone Platinum is the low rate secured card from Oakstone. The card features an impressive variable APR on purchases that's a full 4% lower than the very good interest rate that comes from Oakstone's other credit card, the Oakstone Gold Secured Mastercard®.
The addition of regular reporting to the major credit bureaus (Equifax, Experian, and TransUnion), an inexpensive annual fee, and the global purchasing power of the Mastercard payment network are other impressive perks. It is that great low APR that is the real highlight, however. The average APR for a secured credit card is around 18%, so getting a card with a variable rate below 10% is exceptional.
Honorable Mentions
Want some more secured credit card options to consider? Here are two cards that just missed out on our top spots: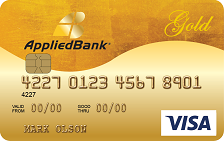 The Applied Bank Visa Gold is another excellent secured card that does not require a hard inquiry to receive. Like the OpenSky Visa, Applied Bank offers a quick and easy application process, a decision in minutes, and regular reporting to the three major credit reporting bureaus.
Like the Oakstone Platinum, the First Progress Platinum Prestige offers an excellent purchase APR under 10%. The card requires no credit history to apply, features a modest deposit minimum of $200, and reports to all the major bureaus.