Last updated on August 8th, 2022
Credit unions are member-owned and operated and are designed to serve their best interests instead of profits. Because of the sheer volume of credit unions in the U.S., finding the right credit union card can be challenging at the best of times. Never fear, however! In honor of  national CO-OP month, BestCards has selected its picks for the best credit union credit cards for 2021.
The Five Best Credit Union Credit Cards of 2021
Here are our top five credit cards for credit union members in 2021:
The Alliant Cashback Visa Signature Credit Card offers one of the highest flat cashback rates on the market today. From Alliant Credit Union of Chicago, the card earns an impressive 2.5% cash back on all eligible purchases – a full percentage point higher than cards like the Chase Freedom Unlimited or Amex Cash Magnet.
Those cards don't have the same $10,000 in purchases per billing period cap as the 2.5% with the Alliant Cashback, but that limit is so high that it most likely will not impact the majority of cardholders. Additionally, Alliant waives the annual fee ($99) for the first year.
Joining Alliant Credit Union is relatively straightforward. Those who live within the communities served by the CU can join, as can those belonging to companies and organizations that partner with Alliant. Don't fit into that mold? Consider joining Alliant by becoming a member of the Foster Care to Success (FC2S) organization or joining the Freelancers Union.
The PenFed Platinum Rewards VISA Signature® Card is one of the most lucrative gas credit cards on the market. The card earns a huge 5X points on gas purchases at the pump, plus 3X on groceries. What makes those points even more impressive is that there is no annual fee for the card.
While the card has an average APR on purchases, it comes with a rather juicy balance transfer promotion. New accounts enjoy 0% APR for 12 months on balance transfers (subject to credit approval when applying).
Pentagon Federal Credit Union is the third-largest credit union in the country, with almost $25 billion in total assets. The PenFed has broad membership eligibility, including military or U.S. government personnel.
The Navy Federal More Rewards American Express® Card earns 3x points on gas station and grocery purchases, 2x points at restaurants, and 1x points for all other purchases. New account holders also receive 30,000 bonus points when they spend $3,000 on purchases in the first 90 days, plus 1.99% intro APR on balance transfers for the first six months – with no annual fees or foreign transaction fees.
Navy Federal also offers exclusive member deals where cardholders can earn bonus points just for making purchases using their card online. All members need to log in to their account and select the retailer they wish to shop with. There are hundreds to choose from, including Staples, Apple, Walmart, Best Buy, and more. Cardholders can earn up to 15 points (or 15% cashback) for every dollar spent.
The Odyssey Rewards World Elite Mastercard® is a versatile rewards credit card that caters to a very diverse clientele. The card is the product of First Tech Federal Credit Union, which serves members in Oregon, Washington, and California.
First Tech Federal Credit Union is the sixth-largest credit union in the United States, with over $16.5 billion in total assets. The credit union offers exclusive financial services for some of the industry's biggest names, including HP, Microsoft, Intel, Cisco, Amazon, Nike, Intuit, and Google.
The Odyssey Rewards Card provides excellent value for members looking to hit the road (or the runway, for that matter). The card earns 3X points on travel and hotels and 2X on dining – including takeout and delivery. New accounts can also take advantage of a 30,000-point bonus after spending $3,000 in purchases within the first 90 days.
If that wasn't enough, The Odyssey Card comes with an APR starting as low as 6.99% for purchases and balance transfers and 0% intro APR for 12 months on purchases!
The NASA FCU Visa Star Trek™ Credit Card is a geek-chic rewards credit card from NASA Federal Credit Union. The card offers 3X points per dollar on purchases at StarTrek.com, 2X at gas stations, and 1X on everything else. New accounts get a 0% intro APR and a basic cash back bonus. The card also comes in four unique designs that are certain to be a hit with Trekkies everywhere.
Joining NASA FCU is fairly straightforward. Becoming a member is as easy as joining the National Space Society (NSS). While joining the NSS has a fee, using NASA FCU's link makes it free for the first year (and $12 per year after that).
Honorable Mentions
Want some more dining credit card options to consider? Here are two cards that just missed out on our top spots: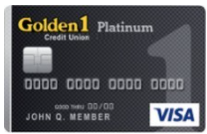 The Golden 1 Platinum Secured Visa® Card is designed for anyone who is looking for a competitive rate even as they are building or repairing their credit. The card has a very competitive APR and the deposit earns dividends while you boost your credit score.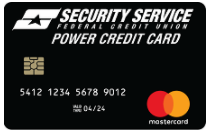 The Security Service Power Mastercard® is a no-nonsense credit card offering some of the lowest rates available. This includes minimal fees on foreign transactions, cash advances and balance transfers, as well as low APRs all around for those with decent credit.