Last updated on July 19th, 2021
Valentine's Day is an important holiday for couples worldwide. According to statistics, It is also an expensive day, with the average American spending over $140. Before making your purchases this year, make sure you have the right credit card to save you the most money. Here are some of the best credit cards for Valentine's Day 2021:
The Best Credit Cards for Valentine's Day 2021
Finding the right card for Valentine's Day savings can be tricky. Here are four of our top picks to consider:
The Grand Reserve™ World Mastercard® is a rewards card seemingly designed for Valentine's Day. Not only does the Grand Reserve Card excel at earning impressive rewards when buying a bottle of bubbly for the big day. It is also a versatile rewards card regardless of what your Valentine's plans entail.
The Grand Reserve Card earns 5X points with over 400 wineries, wine clubs, and other partners. It also earns 3X at wine stores, liquor stores, restaurants, and bars. In addition, Grand Reserve waives its annual fee for the first year.
Are you planning a dinner at a romantic restaurant? The Grand Reserve has you covered, Maybe just a few drinks at a cozy bar? The card can earn you rewards there, as well. Or maybe you want to splurge and have an unforgettable evening at a Napa winery? The Grand Reserve provides discounts, upgrades, and exclusive experiences at hundreds of wineries.
All told, the Grand Reserve World Mastercard isn't just an exceptional credit card for Valentine's Day. It's a prolific earner that will serve wine lovers all year round.
The Capital One® Savor® Cash Rewards offers impressive cash back rewards that prominently features on many Best Of lists. The Savor is one of the best premium cash back cards on the market, offering a tough-to-beat 4% cash back on dining and entertainment, plus 2% back on groceries.
The $95 annual fee may seem off-putting to some, but it is an easy sum to recoup given the cash back rewards. Spending approximately $197 per month on dining or entertainment alone will offset that annual fee, which is not a tall order for those who love dining out and date nights. Plus, Capital One waives the yearly fee for the first 12 months.
Other features of note with the Savor include a Postmates Unlimited statement credit when using the card to purchase a membership, 8% cash back on tickets through Vivid Seats, and access to 24/7 personalized assistance in dining, entertainment, and travel.
The U.S. Bank Cash+™ Visa Signature® Card earns 5% cash back on the first $2,000 in eligible purchases per quarter on the two categories of the holder's choosing. Those 5% back categories include a variety of categories that are of interest for Valentine's Day, including gift items (department stores like Bloomingdale's or Macy's; clothing stores like Gap, Aeropostale, or J.Crew), movie theaters, and ground transportation (including ridesharing services like Uber or Lyft).
The Cash+ also earns 2% cash back on everyday purchases, like gas stations, grocery stores, and dining. Add to that no annual fee, 0% intro APR on purchases for 12 months, and a $150 sign up bonus, and the Cash+ offers tremendous value this Valentine's Day.
The Chase Freedom Unlimited® continues to prove it is one of the best credit cards on the market today. The card, which Chase refreshed last year, earns an unlimited 1.5% cash back on all purchases. However, what makes the card great for Valentine's is the 3% back the Freedom Unlimited also earns on dining purchases.
Should your Valentine's Day plans include a romantic getaway, the Freedom Cards also provide 5% back on all travel bookings made through the Chase Ultimate Rewards portal. Other notable features include no annual fee, a lengthy 0% intro APR on purchases for 15 months, and an impressive $500 cash back sign up bonus.
Honorable Mentions
Want some more dining credit card options to consider for your Valentine's Day spending? Here are two cards that just missed out on our top spots: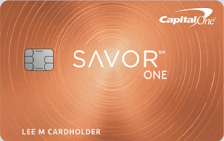 The Capital One® SavorOne® Cash Rewards is another excellent credit card for any time of the year, especially on Valentine's Day or other date nights. The card is one of the most versatile dining credit cards on the market today, thanks to 3% cash back on dining and entertainment – and no annual fee. The $95-annual-fee version of the Savor offers more cash back on purchases, but the yearly cost of holding the card hinders it for those that want an occasional dining and entertainment card without a cost each year.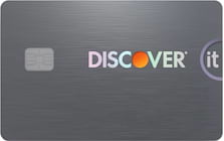 Having bad credit does not mean you cannot save on Valentine's Day. The Discover It Secured Card is the ideal travel and dining companion for those with subprime credit. The card features the same rewards as the Discover It Chrome, meaning cardholders will earn an unlimited 2% back on dining purchases (plus 2% back at gas stations). Very few secured credit cards offer rewards – and the fact that the Discover features no annual fee is a bonus. Plus, Discover offers the same Cashback Match as all of its card products.