Last updated on August 4th, 2022
September is Cat Lovers Month. What betetr way to celebrate our beloved four-legged feline friends than by saving money buying them the toys (and tuna) they crave? Here are some of our favorite credit cards for pet lovers for 2021.
The Best Credit Cards for Pet Lovers 2021
Here are our top pet and animal lover credit cards for 2021:
The Best Friends® Credit Card from Credit One Bank is the newest credit card offer for pet lovers. The card offers up to 5% cash back on eligible purchases from select pet-centric categories. Cardholders earn 5% back on the first $5,000 in spending on pet shops and pet food and supply store purchases.
One of the great features of the Best Friends® Credit Card is that the card bears the Best Friends Animal Society name. This co-branding means that every purchase also helps promote pet adoption, no-kill animal rescue, and spay-and-neuter practices. Every purchase with the card includes a donation of 1% of the transaction towards ending the killing of dogs and cats in America's shelters.
Redeeming rewards with Credit One Bank is straightforward – if not somewhat uninspired.  Cardholders can redeem their cash back with the Best Friends® Visa for statement credits, which can be useful for keeping credit card balances low and saving money on bills each month.
The Petco Pay Mastercard is a versatile rewards credit card for animal lovers that want to save on supplies for their furry (or not-so-furry) animal friends. The card earns an impressive 8% cash back in Pals Rewards (Petco's rewards currency) at participating Petco locations and Petco.com. The Petco Mastercard also earns rewards on groceries, with cardholders getting 2% back in Pals Rewards on grocery store purchases – and 1% back on everything else.
New accounts also enjoy a special 20% discount on their first purchase with the card at Petco or Petco.com. Another new account bonus is the $25 Pals Reward credit when new cardholders spend $500 outside of Petco stores within the first 90 days.
Like the Best Friends® Credit Card, Petco Pay Mastercard holders also support good causes when using their card to make purchases. Using the card to purchase is enough for the company to donate a portion of every dollar spent towards helping animals in need. Petco donates to the Petco Foundation with every Petco Pay Credit Card purchase – a great feature.
The CareCredit® Rewards™ Mastercard™ is a medical credit card that provides special financing on select purchases and procedures. While that might not sound like a "pet credit card," the fact is that CareCredit is a great way to finance expensive veterinary procedures.
The CareCredit® Rewards™ Mastercard™ earns double points on a variety of health-centric categories, including:
CareCredit network purchases
Health & wellness stores and service providers
Grocery stores
Pet stores
The addition of pet stores makes the card an excellent choice for the budget-savvy pet owner who wants to earn points and save money on pet supplies or procedures. Points are applicable for rewards such as statement credits, gift cards from major retailers, merchandise, and more.
However, what makes the CareCredit® Rewards™ Mastercard™ unique is the addition of special financing on select CareCredit network purchases and procedures. The CareCredit network is extensive and includes a selection of veterinary offices and specialists.
Cardholders find a service provider, select from deferred interest repayment or a reduced APR with fixed monthly payments, and then pay down that balance over time. This flexibility is ideal for animal lovers that anticipate potential veterinary costs but don't want to be buried under those costs immediately.
Honorable Mentions
Want some more pet lover credit card options to consider? Here are two cards that just missed out on our top spots: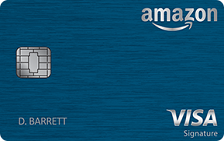 The Amazon Rewards Visa offers savings on a huge assortment of pet food and supplies. Cardholders earn 5% back on Amazon.com and Whole Foods purchases, meaning they can get their groceries - and some treats for their pet at the same time.
The Upgrade Triple Cash Rewards Visa offers double the cash back rewards of the popular Upgrade Card with Cash Rewards. The Triple Cash allows cardholders to earn up to 3% back on purchases in select categories, with an unlimited 1% back on all other purchases.