Last updated on November 30th, 2020
Contactless credit cards are gaining favor in a post-coronavirus world. These cards offer safety and security thanks to removing the need for a magnetic strip that is easily copied by thieves. Looking for a new credit card that offers tap-and-pay technology? Here are some of the best contactless credit cards of 2020:
What Are the Benefits of Contactless Payments?
While contactless payments are relatively recent in the U.S., they are common in Europe, Australia, Canada, and parts of Asia. The primary benefit of contactless payments is speed. Contactless payments are like mobile wallet payments – you tap your card on the reader, and that's it! The other major benefit of using contactless credit cards is they are less likely to encounter germs, bacteria, or viruses – like the novel coronavirus (COVID-19).
Contactless payments are more secure than traditional swipe credit card payments. That is because contactless payments are like chip and pin purchases, which add an additional security layer. Traditional swiping relies on the card's magnet strip. This piece can be easily duplicated by fraudsters and identity thieves.
How to Tell If A Card Offers Contactless Payments
How can you tell if your credit card has contactless payment technology? The easiest way to know if your credit card works with touch-and-go, contactless payments is to look for the contactless symbol on the card. The contactless logo is either on the front or back of the card.


The Best Contactless Payment Credit Cards of 2020
Here are our top contactless payment credit cards for 2020:
Any list of the best credit cards for contactless payments must include the Apple Card. After all, that's the main selling point of the card. The Apple Card works seamlessly with Apple Pay, the tech giant's popular and widely accepted digital wallet system.
The card is a decent cash back rewards card that emphasizes paying through the native Apple Wallet technology. For that reason, the card offers an impressive 2% cash back on purchases made through Apple Pay (and 3% back on Apple or other select retailer purchases, including Uber, Uber Eats, Nike, Walgreens, and more).
As with other digital credit cards, the Apple Card also boasts a lack of fees – especially hidden fees. There's no annual fee, no late fees, and no returned payments fees.
A perennial favorite of several "Best Of" lists, the Discover It Cash Back is also an excellent choice for consumers who prefer contactless payments to swiping.
The Discover It Cash Back offers 5% back on rotating categories, with Q4 2020 including the first $1,500 spent at:
Amazon.com
Target.com
Walmart.com
If the online nature of the Q4 2020 Cashback Calendar doesn't lend itself to contactless payments, Q1 of 2020 does. The 2021 Discover 5% Calendar features 5% back at Walgreens, CVS, and grocery stores from January to March.
If you are looking for a new credit card that emphasizes contactless payments in-store, with enhanced savings during the holiday gift-buying season, you can't do much better than the Discover It.
Related Article: Discover Announces 2021 5% Cashback Calendar
There are plenty of great credit cards that now offer contactless payments, but few offer the rewards included with the Blue Cash Preferred. This cash back credit card from American Express has a $95 annual fee, which Amex waives for the first year.
For those $95, however, cardholders earn some serious cash back. The 6% back on groceries is just the start. The card also offers:
6% back on U.S. streaming services
4% back on U.S. gas stations and transit
1% back on all other purchases
The grocery store and gas station purchases are the highlights of contactless payments since those locations also involve hundreds (or thousands) of shoppers – and countless potentially harmful viruses.
There are excellent enhanced-rate cash back cards from almost every major issuer. These cards include the Amex Cash Magnet and Chase Freedom Unlimited. These cards all offer 1.5% cash back on all purchases. The Capital One Quicksilver Card, however, always has a soft spot in our hearts.
Maybe it's the easy-to-get $150 signup bonus after spending just $500 in the first three months. Or perhaps it's the 15-month 0% intro APR period on both purchases or balance transfers. Maybe it's the lack of annual fee, no foreign transaction fees, or even no need to swipe the card at stores thanks to contactless payments.
Regardless of the reasons why, the Quicksilver is an excellent card for everyday use – and one worth considering for various uses.
Honorable Mentions
Want some more card options to consider? Here are two cards that just missed out on our top spots:
The American Express® Gold Card is an exceptional premium rewards card for those who frequently travel or dine out. Whether having lunch at a restaurant or takeout dinner at home, if you want to earn big and avoid swiping, the Gold Card is an ideal choice.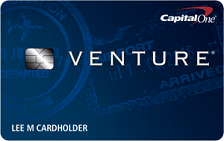 The Capital One® Venture® Rewards Credit Card earns 2X miles everywhere, meaning every type of purchase counts. The addition of contactless payment technology just makes the earnings that much easier – and safer.
Featured photo by Matthew Henry / Burst